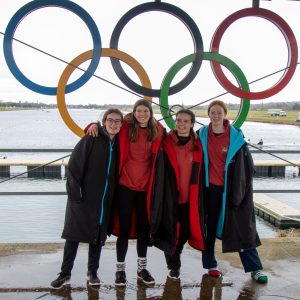 Stratford upon Avon Boat Club's junior crews were back on the water this week following Schools' Head for the second of the pinnacle events of the Head racing season – the Junior Sculling Head at Dorney Lake.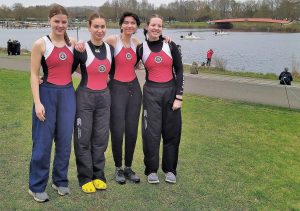 On the Olympic course at Dorney Lake the J14, J15 and J16 squads took on competition from around the UK to compete at this high profile event.  The J14 squad fielded a women's coxless quadruple scull with Bryony Francis, Maeve Dunn, Becca Smith, Sophie Franklin and Martha Cooke (coxswain) representing Stratford Boat Club. The crew stormed up the course on the first 1800m leg and held their own in the 1800m second leg

to finish eighth out of forty five crews entered. Commenting, Steve Wellstead, J14 Coach and Junior Co-ordinator said, "This places the WJ14 squad amongst the top crews in the country and makes for an exciting summer regatta season ahead!"
Representing the Junior 15's girls were Alexandra Francis, Lily Warren,

Sophie Evans, Poppy Baines, Meg Nuttall (cox) competing in the WJ15 coxed quad event. This is a popular event and this year was no different: a total of seventy two crews from the UK competed in difficult conditions. The Stratford girls were drawn in the outside lane racing into a crosswind of 23mph bearing the full brunt of the strong gusts and thus the first of the two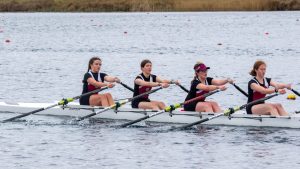 runs challenged cox and crew. Despite a strong performance the girls finished twenty fifth. Said Colin Bell, J15 Coach, "On this occasion, the results did not reflect the effort!"
A field of fifty one crews took to the water in the WJ16 coxless quad event. Seeded sixteenth, the Stratford Boat Club crew of Ez Elfwood (stroke), 'V' Vondrak, Scarlett Richardson and Aimee Appleton (bow) settled into a strong and steady rhythm early on with Appleton dealing well with the cross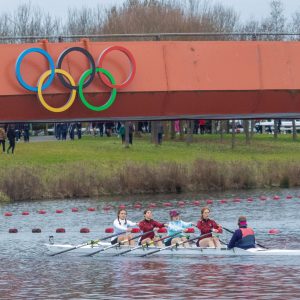 winds to steer a straight line. Rowing through two other boats and with a faster second leg, the girls pulled up three places to finish thirteenth overall in a very competitive class.
For media coverage, see Stratford Herald page fifty three and Stratford Observer online https://www.stratfordobserver.co.uk/sport/rowing-junior-scullers-show-promise-on-dorney-lake and back sports page https://www.stratfordobserver.co.uk/editions/view/?/Stratford/2023/03/31&pages=032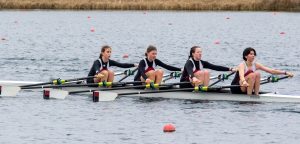 For more great pictures of the Junior Sculling Head, see Stuart Baines' excellent selection https://onedrive.live.com/?authkey=%21AAgtRX2jqm73JFY&id=3DD8F6A70C0CB625%21250426&cid=3DD8F6A70C0CB625