On August Bank Holiday Monday, 1874, despite a "dull threatening sky", many Stratfordians and visitors flooded down to the Avon to watch a Regatta, the first to be held in Stratford, and organised by Stratford Cricket Club. The programme was comprehensive: it included a cricket match on the field by the Tram Bridge, a military band, and refreshments marquees by the river. The regatta programme included two pairs events, a sculling event, and a canoe race; it was not an open regatta, and all the competitors seem to have been local oarsmen. The success of the regatta fired the enthusiasm of a number of young men, and a week later, on Monday the 10th of August, 1874, they met at the "Falcon" to establish Stratford-upon-Avon Boat Club.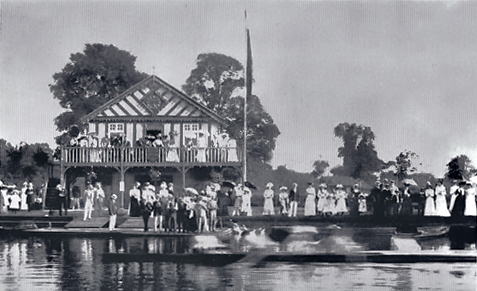 The first committee was Edwin Lockyer Curry (the first captain), J. New (Hon. Secretary), Charles Loggin (Hon. Treasurer), G. Stephenson, George Martin Bird, W. A. Samman, F. A. Lane, J. Butcher and E. Pardoe. A deputation waited on Mr. Arthur Hodgson at Clopton and persuaded him to become the club's first president, against the advice of the Vicar, the Rev. John Day Collis, who prognosticated gloomily, "Look here, friend, your club will only last three years. No club in Stratford lasts longer than that".
The Club's own regatta, held each August Bank Holiday Monday, quickly settled into a pattern: this was the era of the bicycling craze, and for a number of years the Stratford Bicycle Club co-operated with the Boat Club in arranging cycling and athletics events, though there was sometimes trouble with professionals who tried to enter amateur events. There were also events such a pony races, tub races and greasy pole competitions. The early regattas were closed events, but the first open event – won by an Evesham R.C. four – was introduced in 1980, and other open events for fours, pairs and scull followed.
A professional waterman, Rowall of Newcastle-on-Tyne, was engaged to coach the Club's crews in 1879, at a salary of £2 per week, and the following year another Tynesider, Stephen Renforth, was engaged as a professional coach. The 1880 regatta was the only one to offer a professional scullers' event, put in, one suspects, as a soft option for Renforth to add to his wages – though no other professionals entered, and the event was not sculled.
The 1880s saw the first great period of Stratford rowing. A Senior Four had been boated in 1879, and a Junior Four won at Tewkesbury that year. Another Junior Four won at Stratford in 1881, and by 1882 the Club had a number of experienced oarsmen and a Senior Four was formed – A. Callaway, W. S. Davies, H. White, and Tim Coles – which won at Twekesbury and Stratford. In 1883, Tom Birch came into the crew at bow, and J. B. Stack deputised at 2 when needed, the crew winning at Stratford, Worcester and Bewdley.