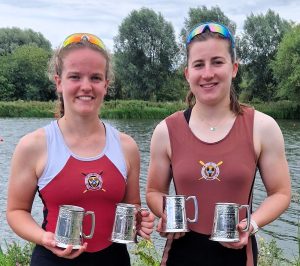 It was hugely encouraging to see the women of Stratford upon Avon Boat Club dominating the racing in Peterborough.
In a tremendously strong tail wind, the Masters' Women fought to hold the quad level off the start and powered their way to catch up the crew ahead, that had been given a time handicapped head start. Finding better water at 250m they came back through the lead crew to win just as the crews went over the line. A win by 0.4 of a second! Charlotte Jones, crew member, said, "The crew overcame challenging conditions to win! Great win and great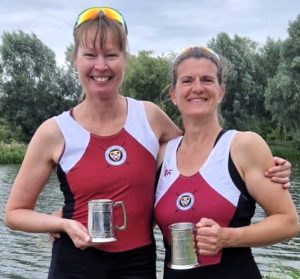 fun!"
The gusty strong tail wind continued into the afternoon for the Masters' Women's double of Suzie Radley and Amanda Bowden. They comfortably won the heat and the final race in a time of 1:55minutes.
Heather Hayton, Club Captain and stroke of the quad, highlighting the wins said, "It is spectacular to see women, across all age groups, come together and succeed in their sport. Inspirational! Added to that, the Stratford ladies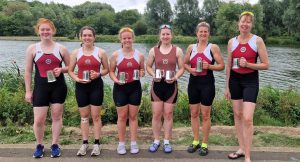 won the most female events of the day!"
Racing in the first boat of the day for the senior women were Alice Baines and Imogen North in the Women's Band 2 doubles event. Despite only having one outing prior to the event, they commanded their heat and subsequently their final in a time of 1:46.0. In the afternoon both Alice and Imogen took to the water again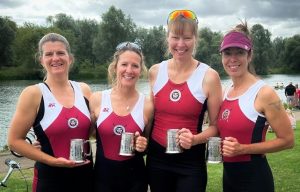 joined by Elisabeth Edwards and Katy Thomas for the Women's Band 2 quads event. This was an exciting start to Katy's sculling career as her first ever sculling race having taken up the sport whilst at university. This scratch crew, with only one outing under their belts, took themselves by surprise by winning comfortably both their heat and final despite the blustery conditions
Stratford's Masters men also competed at Peterborough: Sunday afternoon saw Stratford's men's masters competing after quite a break. Conditions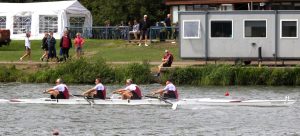 were good but an occasional wind across the course was causing some problems for steering.
A lack of competition saw the coxless four masters crew (Dave, Simon, Graham and Richard) entered into open category against much younger crews from Auriol, Cantabrigian and Dart Totnes. Undaunted, they decided to give it their best and recorded a personal best in what would have been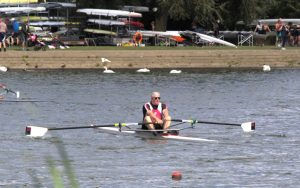 very credible time for a masters' E event
After the fours' event, there was the return to competitive rowing by John Robinson. Facing stiff competition from Peterborough City and Bewl Bridge, John remained within one boat's length right up to the finish but
sadly missing out on a pot
Said Dave Edwards, Masters' Vice Captain, "An excellent day was had by all and the squad is now looking forward to the start of the head season"
For media coverage, please see Stratford Observer online https://www.stratfordobserver.co.uk/sport/rowing-stratfords-women-win-at-peterborough and back sports page https://www.stratfordobserver.co.uk/editions/view/?/Stratford/2023/08/18&pages=24 and also Stratford Herald page forty three