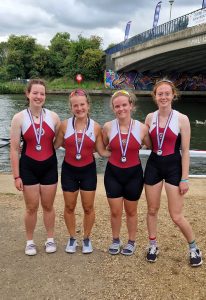 Sunday 20 August saw Stratford upon Avon Boat Club's J13 and adaptive crews take on the 500m Sprint course at City of Oxford Regatta with stakeboat start by Jesus and Keble College boat house. In the morning division, competing in the WJ13 2x event, the doubles of Orla Linforth/Erin Appleton and Maria Ntoukaki/Naomi Sime steered a good course but were beaten by very competent crews from Oxford City and Thames Scullers (eventual winners).
In the afternoon division, competing in the J13 1x event, Rory Rowan, Euan Richer, Seb Happel, Noah Rutter and Ed Appleton sculled very well too but were beaten by more experienced scullers from Falcon Boat Club and Oxford City, rowing on their home waters. Said Hugo Happel, J13 Coach, "Overall, the J13s bagged some worthwhile experience on the Thames, taking away many positive learning points."
First on the water was the women's J15 double of Lily Warren and Alexandra Francis who won their first round against a crew from Upton: however, they then lost their semi final to a strong Wallingford crew by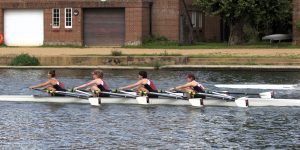 three quarters of a length after a close race and a commendable sprint finish.
In the open J15 doubles, Xavier Sissins-Roffey and Theo Richter raced a formidable Falcon crew who had the advantage as they were on home water and despite a strong racing start which gave the Stratford crew an initial lead, lost to the eventual winners of the category. Also in the open J15 doubles was the mixed double of Poppy Baines and James Albrighton, who,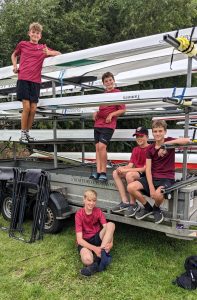 despite never having rowed together before, gave an impressive performance but were beaten by tough opposition from a Wallingford crew.
In the afternoon division, Seth Vondrak won his initial race against a Falcon single by a comfortable four lengths. Progressing on to the next race he showed great sportsmanship in requesting to race his opposition from Wallingford in the semi final, despite the fact the Wallingford single had been initially disqualified which would have secured him a spot in the final. After a closely battled race, Seth narrowly missed out on his spot in the final. Also competing in the singles events, Alexandra Francis competed against a strong single from Wallingford in her semi-final and, after a very close race from start to finish, she won by just two feet which meant she progressed through to the final where she met another Wallingford single who she also beat to win the women's J15 singles event.
Stratford's J16 squad entered two crews, the first being a WJ16 quad with Aimee Appleton, Eloise Cooper, Esme Elfwood and Lucy Sartain: rowing up against seniors due to lack of competition in their age group,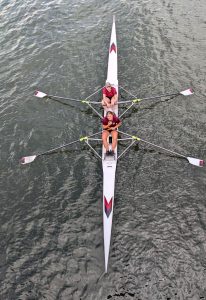 the quad lost narrowly to a strong Abingdon crew. The Stratford boat finished strongly gaining with every stroke but Abingdon held on to cross the line just a quarter of a boat length ahead.
In the same division Molly 'V' Vondrak enjoyed success in the WJ16 single sculling category. Following a confident row and comfortable win over Wallingford in the semi finals, Vondrak went on to the final against a sculler from Exeter Rowing Club. It was nip and tuck over the first half of the race but the Exeter sculler was unable to maintain the pace with Vondrak taking the win by a comfortable margin and collecting a medal.
Stratford's senior women's squad of Amelie Sartain and Alice Baines, racing together as a combination for the first time in over two years, had a strong first race against Bentham Boat Club in which they found their rhythm halfway through to power away to a four length lead over the finish line. In the final they drew a strong crew from Reading Rowing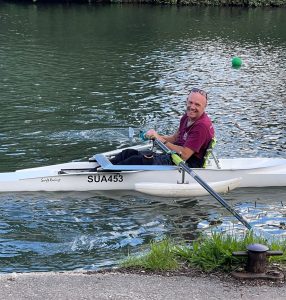 Club who jumped out to a length lead off the start but the Stratford double stuck to their plan and rowed through the competition on the inside of the bend and winning the event in style!
Stratford Boat Club's adaptive section also joined the Club's J13 squad on a sunny Sunday for the Oxford Sprint Regatta. The morning saw all the adaptive single scull races. There were several really good performances from Stratford's adaptive section: Andy Morris, who has remained undefeated for most of the summer, again won his event overcoming his final opponent from the local City of Oxford Club by several lengths. Stratford's adaptive thirteen year old Isaac Clarkson then had a very convincing win against an adult opponent from Marlow. Rob Pedley competed in two events and suffered a narrow defeat in the first race but winning his second final very convincingly over a Sudbury sculler.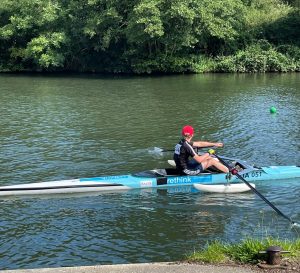 Jess Dowdeswell had the hardest task of the day competing against a Paralympian from Kenya. Although Jess was beaten, this was the best performance of this her first summer of racing. Both coach and Jess were very pleased!
All the adaptive double races took place after the lunch break. These events saw another three Stratford Boat Club adaptive wins. Andy Morris and Isaac Clarkson, teaming up to defeat Guildford by a few lengths and then Daniel Browne and his support rower, Neville Hand, won their event in the most exciting final of the day, defeating a plucky crew from Marlow by a mere two feet! The last win was in an all Stratford final between James Bastin/Neville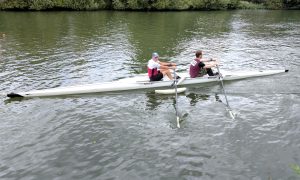 Hand and Phil Startin/Andy Morris. Phil winning his first ever event by a couple of lengths commented, "My first regatta: what a fantastic day! Thank you Mark, Andy and everyone!"
Mark Dewdney, Stratford's Head Adaptive Coach commented further, "With the exception of a few races on the Bank Holiday, this wraps up another very successful regatta season for Stratford Boat Club's adaptive squad. We will be visiting Turin for an international event in early October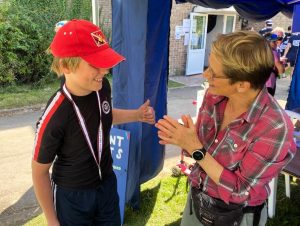 and we have many exciting projects in hand to bring rowing to a wider audience of adaptive rowers."
For media coverage, see Stratford Herald page forty one and online https://www.stratford-herald.com/sport/winning-ways-for-crews-at-oxford-9327338 an and also Stratford Observer online https://www.stratfordobserver.co.uk/sport/rowing-boat-club-scullers-clean-up-at-oxford
For more great pictures of City of Oxford regatta, see Kathy Baines' excellent selection https://onedrive.live.com/?authkey=%21APoYhH8AIy0FjnU&id=8E50DAC120123B06%21100237&cid=8E50DAC120123B06