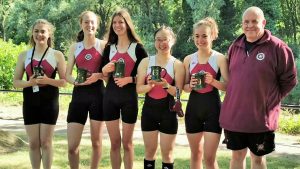 On Saturday 25 June, Stratford upon Avon juniors set off early and racing side by side over 1000m with the stream, upstream from the pretty town of Ironbridge, opposite the former cooling towers, Will Dalrymple-Baker beat a Grosvenor sculler and two City of Bristol Scullers to take the win in the J15 1x Band 1 event. Jamie Wilcock crashed whilst in the lead, recovered well but ran out of time.
The Stratford WJ15 doubles of Nancy Davis/Jessica Long and Harriet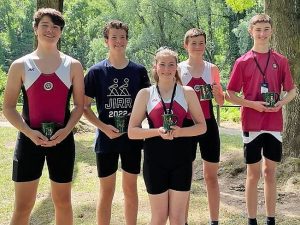 Froom/Esmerelda Elfwood sculled with fine technique against powerful opponents from Grange School and Huntingdon, with a win for Nancy and Jessica. The latter duo came just short in the Final.
Following on from the J15's was Theo Richter, Xavier Sissins-Rofey, Seth Vondrak , Ollie Rowlands in the OpJ14 coxed quad. The boys were determined to make up for their equipment failure at Stratford regatta last weekend. A very strong start enabled the boys to pull ahead within the first quarter of the course. Their cox Meg Nuttall steered a perfect line and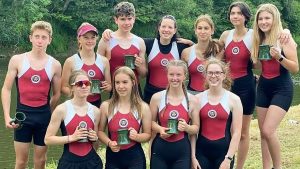 pushed the boys to further increase their lead, winning the final against Grange School by a convincing four boat lengths.
Up next was Poppy Baines who faced a very strong sculler Daisy O'Reilly from City of Bristol and despite a strong start where both girls were neck and neck, Daisy managed to pull away crossing the line fist. The City of Bristol sculler went on to win the finals of the WJ14 single event.
In Division Two, Jamie Wilcock and Will Dalrymple-Baker raced twice to win the J15 2x Band 2 event, beating crews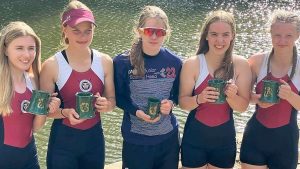 from Grange and City of Bristol. In the WJ15 1x events, all three Stratford scullers Aimee Appleton, Molly Vondrak and Eloise Cooper raced very well but came just short against tough opponents from Grange and Liverpool Victoria.
The WJ15 4x+ event saw very close racing and the Stratford girls, Scarlett Richardson, Megan Rowan, Jessica Long and Harriet Froom, coxed by Nancy Davis, beat City of Bristol by two feet and then Grange by half a length to take the event win.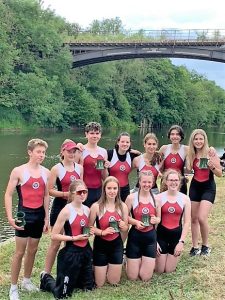 Also in Division Two, Alexandra Francis, Sophie Evans, Alice Jones, and Lily Yang competed in the WJ 14 coxed quad verses Grange School. Grange School were a little too eager to make for their boys' loss earlier in the day. Grange were quick of the start but were unable to sustain their fast pace. Once again Meg Nuttall, the Stratford cox, stuck to her race plan. Not fazed by her opposition she successfully coxed the girls to a win of one length.
Commenting on the day Hugo Happel, Stratford's J15 coach said, "It was a very special atmosphere all day with the crowds gathered in front of the Ironbridge Boathouse being very lively and engaged which made for a great experience for competitors and spectators alike. The J15 athletes did so well, much improved pre-race preparation and fantastic sculling with great determination, well done all!"
For media coverage, see Stratford Herald online https://www.stratford-herald.com/sport/juniors-show-their-mettle-9261155 and page sixty and also Stratford Observer online https://www.stratfordobserver.co.uk/sport/rowing-stratford-upon-boat-club-juniors-on-form-at-ironbridge