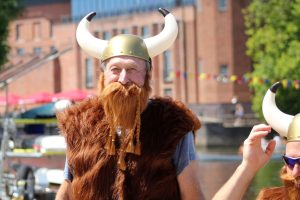 Although the wait of two years seemed a long time, all the expectations of the Fun Regatta were met and even bettered! The Fun Regatta attracted competitors from local companies, villages and groups of friends and sixteen crews with just three hours' training produced some quality rowing, ably coxed by skilled members of Stratford Boat Club's junior squad and watched by crowds and friends from the Club's grounds, the Bancroft Gardens and the Rec
Fun Regatta joint organiser Simon Price said, "We were heartened by the huge numbers who came to watch, cheer the competitors on and enjoy the spectacle: it may not have been Henley Royal Regatta but we like to think that it was more fun to watch!"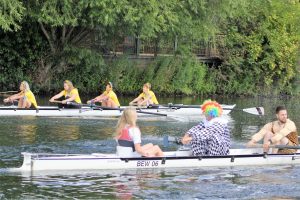 During the lunch break, there was some exhibition racing with juniors against juniors and then the winner of that race again a Masters' four: in a much disputed start decision, the Masters were given a five second start advantage (despite the juniors having raced just before!) and the Masters won by only one second!
Fancy dress was again a major part of the day, with crews dressed as Vikings – horns and all; teachers fully equipped with motarboards; crews with boaters and moustaches; pirates; crews dressed in colourful tootoos and Hawaiian shirts; circus clowns and animals; the now immediately recognisable blue and yellow of Ukraine and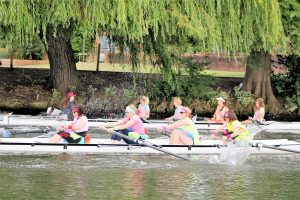 multicoloured wigs. Many crabs were caught and there was a lot of splashing but nobody capsized with the rescue launch staying on her mooring throughout the day! The eventual winners were Meander Club with Afro Circus taking the fancy dress prize!
Chris Belcher joint organiser added, "Through the hard work and all the efforts of Club members, we have been able to raise funds for replacing equipment, repairs and maintenance. As always, we are especially grateful for the tolerance of those who make their living on the river and to our sponsor Crowne Plaza Stratford."
Dawson Curnock, Boat Club Chairman commented, "The wait was worth it! A fun day was had by all and Stratford Boat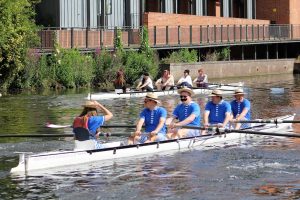 Club was happy to contribute to the vitality and atmosphere of the town and give visitors and residents a cause for celebration!"
Whilst the Club members was running the Fun Regatta, Jake Blatcher was competing at Llandaff Regatta: Jake was the only Stratford upon Avon Boat Club competitor at Cardiff. Despite the beautiful weather, many entered crews had to withdraw due to Covid. However, the Men's Singles event was the biggest of the day with twelve scullers taking part. It proved also to be the highest standard event and Jake would have had to get through four rounds to win the pot.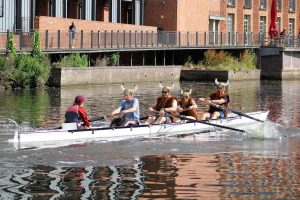 Jake's first opponent was Dawson from Hartpury College (Gloucester). Jake established an early lead on the 1000m course and extended this to two lengths coming under the bridge with about 400m to go. He continued to increase his lead and won the race by three and a half lengths. In the quarter-final, Jake met Jenden from Bristol Ariel. This proved to be a very good race with the Bristol sculler establishing a small lead in the early stages. However, the race was going fast enough to catch up with the race that had been started before them. This forced Jake to slow down to avoid collision and Jenden extended his lead a bit and won the race. Despite the effect of the previous race, the result was allowed to stand. Said Mark Dewdney, Stratford's Head Adaptive Coach, "Jake is showing signs of improvement as the season progresses: circumstances conspired against him on this occasion and it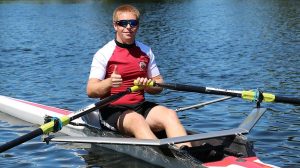 was a tough draw. A win must be just around the corner!"
Stratford's junior squads were back on the water on Sunday after coxing at the Fun Regatta, putting in more training for the British Rowing's Junior Championships at The National Watersport Centre at Nottingham this coming weekend. Steve Wellstead, Junior Co-ordinator commented, "The junior squad will be heavily represented with crews from J14, J15, J16 and J17/18 categories all there for their chance for glory against some of the best schools and clubs in the country: we wish them luck!"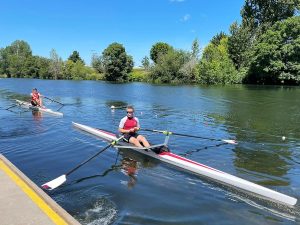 For media coverage, please see Stratford Herald online https://www.stratford-herald.com/sport/fancy-dress-and-fun-9263476 and page sixty two and Stratford Observer online https://www.stratfordobserver.co.uk/sport/rowing-stratford-upon-avon-host-enjoyable-fun-regatta and back sports page https://www.stratfordobserver.co.uk/editions/view/?/Stratford/2022/07/15&pages=024
For more great pictures of the Fun Regatta, see Stuart Baines' excellent selection https://1drv.ms/u/s!AiW2DAyn9tg9j5VoJYvAKDCwMfMSlA?e=JgnE7D