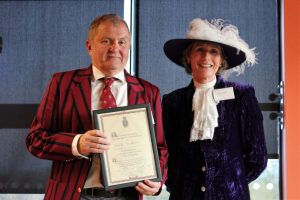 Thursday evening saw Stratford upon Avon Boat Club's Head Adaptive Coach Mark Dewdney at Warwick School for a surprise reception and presentation by the outgoing High Sheriff of Warwickshire, The Lady Willoughby de Broke with a certificate "… in recognition of great and valuable services to the community".
The award was nominated by Cllr Kevin Taylor, Mayor of Stratford upon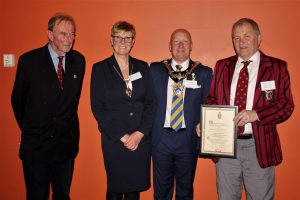 Avon who said, "Great night on Thursday evening attending The High Sheriff of Warwickshire's Evening reception where she presented awards to various charities from around Warwickshire. Stratford upon Avon charities Lifespace, Safeline and the Street Pastors were all given awards.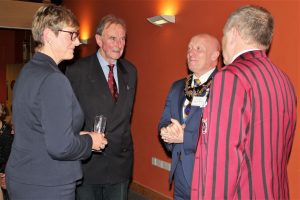 All of the Warwickshire Mayors were requested to nominate a volunteer of the year award and it was a great honour to nominate Mark Dewdney, Head Adaptive Coach and main instigator of the adaptive rowing squad at Stratford upon Avon Boat Club.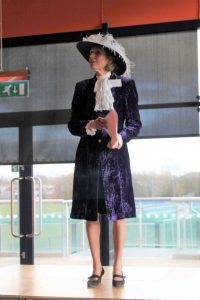 Mark is a truly inspirational character with a vision of creating an incredibly inclusive and important section of a great sporting club. He works tirelessly to deliver and although now supported by a very willing number of dedicated volunteers, without his vision drive and enthusiasm this would have never happened."
Kevin continued, "Volunteers such as Mark are critical in the delivery of projects in the area: they are the catalysts in delivering programmes such as this and I know I will be seeking Mark's advice in how to deliver an adaptive group within Stratford upon Avon Table Tennis Club. Well done, Mark: this award is incredibly well deserved!"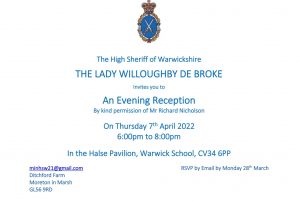 Commenting further, Paul Stanton, President of Stratford upon Avon Boat Club said, "Mark had no idea that this award was coming and it was very special to have the evening and award presented by The High Sheriff Lady Willoughby de Broke. We are immensely proud of Mark and all that he has done for the Club and the local community: the adaptive section and the Club goes from strength to strength and is reliant and built on the volunteering ethic that Mark exemplifies!"
For media inclusion, see Stratford Herald page fifty nine and online https://www.stratford-herald.com/sport/boat-club-coach-scoops-surprise-volunteer-of-the-year-award-9249269