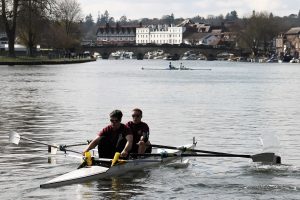 Sunday saw a very large contingent of Stratford upon Avon Boat Club's adaptive (disabled) section descend on Henley-on-Thames to take part in The Phyllis Court Time Trials. This event has become the major highlight of the adaptive calendar: times achieved are used as a major indicator of performance and determine the format of competition for the coming regatta season.
The Stratford Boat Club entered ten crews, more than a third of the total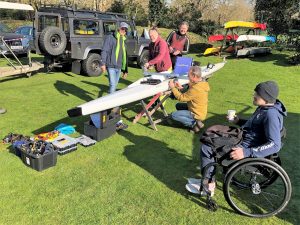 entry. This included Rob Pedley, Lee Cairns and Dan Browne competing in their first ever event. On the day there were thirteen adaptive rowers making their debut: this is a very good indicator for the growth of rowing for the disabled.
In perfect but cold conditions, the Stratford rowers again proved they are a force to be reckoned with. Performances, especially from the new members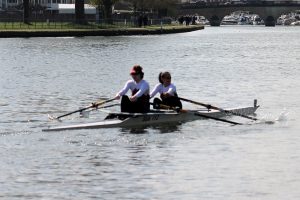 of the squad, made the Head Adaptive Coach extremely proud and happy, no bad thing for coach/ athlete relationships! Mark Dewdney, Head Adaptive Coach said, "The squad is now so large that we spend a lot of our time at regattas just making sure all the kit is available when it needs to be. This may be tiring and a major undertaking for all the coaches and helpers as well as the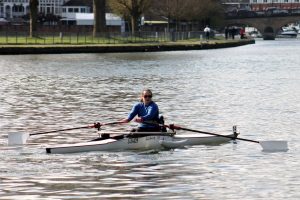 athletes but good results will always make the effort worthwhile! The section is heavily reliant on volunteers who give their time freely: this is why the team works so well!"
Given the nature of the event, the awards are only given out for special performances: this year these focussed on the new rowers, Stratford taking
two of the six prizes. One prize went to Dan Browne and 'buddy rower' and Adaptive Coach Joe Moore as the fastest new double and Rob Pedley took the Coaches' Award for the most impressive debut of the day.
Also at Phyllis Court to support Stratford Boat Club's adaptive squad were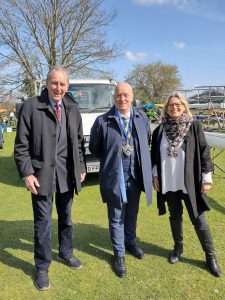 Kevin Taylor, Mayor of Stratford upon Avon and Stratford Boat Club President, Paul Stanton. Commenting, Paul said, "We were honoured to have Kevin with us and his support for the adaptive squad on the day and during his tenure as Mayor of Stratford upon Avon means a lot to us and exemplifies Kevin's commitment and dedication to sport, those who are less fortunate and the culture of volunteering: we have all learnt a lot from Kevin over this last year"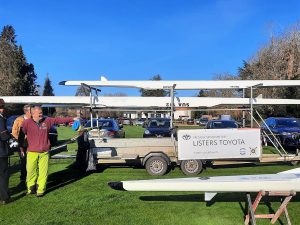 Commenting further, Paul said, "Our welcome and attentive company from Phyllis Court was outstanding to both me and the Mayor of Stratford upon Avon, a glorious morning spent in the company of kind and considerate people. We marvelled at their organisation, lots of marquees, genuine smiling faces and ever welcome to assist on any request. Speaking on behalf of the competitors from our adaptive squad, our thanks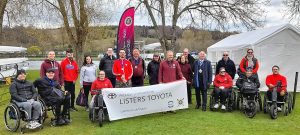 for their hospitality and assistance. Phyllis Court Rowing Club are a very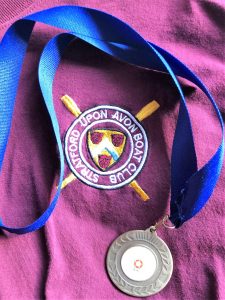 friendly bunch of caring people!"
Kevin Taylor, Mayor of Stratford upon Avon, summed up the day by saying, "Thank you so much for a thoroughly enjoyable day: we are immensely proud of everyone assisting and participating within the group and we look forward to coming along again soon!"
For media coverage, please see Stratford Herald online https://www.stratford-herald.com/sport/adaptive-squad-makes-waves-at-time-trials-9248001 and page fifty one and also Stratford Observer online https://www.stratfordobserver.co.uk/sport/rowing-stratfords-adaptives-out-in-force-at-henley-on-thames