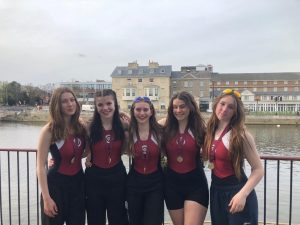 To round off the winter head racing season, Stratford upon Avon Boat Club's juniors headed east for Bedford and Great Ouse. Not one of the Club's regular events, it was the first time the junior athletes had rowed the 2k course that winds through the town under seven bridges to the finish in a very scenic park.
The J16 squad entered Charles Happel in a single scull, who put in his best performance of the season so far. In a field of twelve, Charles finished third, just one second behind Leicester Rowing Club.
J16 Coach Sam Hill said, "I am very pleased for the athletes. To achieve such a good result at Bedford is very encouraging for the regatta season that starts in two weeks at Nottingham."
The Stratford WJ15 girls also put on a great performance at the 2022 Bedford Spring head. The squad of Eloise Cooper,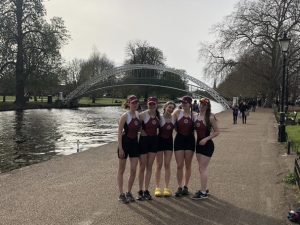 Molly Vondrak, Lucy Sartain, Esmerelda Elfwood and Aimee Appleton (cox), sculled the 2000m course in a fantastic time of eight minutes and sixteen seconds. Commenting, Hugo Happel, J15 Coach said: "They missed out on Gold by only four seconds to the girls from Falcon RC (Oxford). However, they beat five other crews, three of them based on the Thames: Wallingford, Eton Excelsior and Staines plus Leicester and Bedford!"
Also at Bedford were the J17/18 Performance squad represented by Freya Watts, Martha Usselmann, Amelie Sartain and Harriet Holmes who competed first in the Women's coxless quad event. Commenting, Abi Terry, the J17/18 Performance Squad Coach said, "With Harriet steering an excellent line down the tricky course, the girls finished a respectable third in the most competitive band and fourth overall in a field of stiff competition."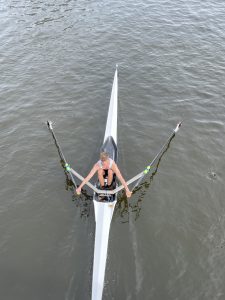 Later on, the WJ squad split into two doubles, Martha and Amelie competing in the Women's event, and Freya and Harriet in the Women's J17 category. The two scratch crews finished third and sixth respectively in their events, against some prestigious crews.
Also competing at Bedford Head was the double of Nick Sartain and Ed Lewry: they were the first Stratford crew to hit the water competing in the Open Double Sculls event. They posted the fastest time of the Club for the day across the 2km distance to finish at the top of their band and seventh overall.
For media coverage, see Stratford Herald page fifty nine and online https://www.stratford-herald.com/sport/rowers-sign-off-the-winter-season-on-a-high-note-9249786 and also Stratford Observer online https://www.stratfordobserver.co.uk/sport/rowing-stratford-upon-avon-boat-club-juniors-finish-winter-head-season-in-style and back sports page https://www.stratfordobserver.co.uk/editions/view/?/Stratford/2022/04/15&pages=032