After the excitement of National Junior Championships, the Stratford upon Avon Boat Club junior rowing summer calendar turned to Henley Town & Visitors Regatta for the next races. Held over 800m on the famed Henley Reach, the event always provides great racing and moreover a great relaxed atmosphere. First to go from the J14 squad was the women's coxed quadruple scull of Sophie Franklin, Becca Smith, Martha Baines, Bryony Francis and Poppy Warren (coxswain). Competing in the J15 category, the crew made easy meat of Wallingford Rowing Club in the first round. However not to be outdone, the hunter became the hunted in the final and a second Wallingford Rowing Club crew, recent National Junior Championship finalists, took the win in the final by just four lengths over the Stratford girls.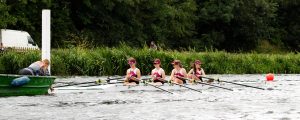 The racing continued furiously with the WJ14 single sculls next to boat. Sophie Franklin and Millie Smith represented Stratford with great sculling in a tough headwind, both placed second in their respective semifinals and narrowly missing out on a place in the final. Challenging conditions continued for the WJ14 double sculls event where three Stratford crews competed. Bryony Francis and Martha Cooke powered their way past a quality Wallingford Rowing Club double in the semifinal whilst Martha Baines and Becca Smith booked their place in the final showing Falcon Rowing Club nothing but wake. Meanwhile in the third semifinal, Isla Dunn and Poppy Warren narrowly missed out to a quality Henley Rowing Club double. With the regatta drawing to a close, the final wasn't quite an all Stratford affair and the Henley Rowing Club crew took full home advantage securing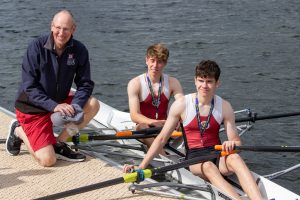 the win with Stratford nipping at their heels until the finish line.
Stratford's Junior 15's had four events to participate in, starting with Theo Richter and Ollie Rowlands in the Junior 15 double sculls. They faced tough competition from Falcon and Henley who took an early lead and kept it until the end. Richter and Rowlands did their best but could not catch up on the short course. Sadly, they did not qualify for the final.
Stratford's J15 girls had more success in the single sculls event with Sophie Evans, Alexandra Francis, Poppy Baines and Meg Nuttall representing Stratford Boat Club. Evans raced against City of Oxford and Wallingford and, despite being more used to racing in bigger boats, she performed well and finished third. Francis and Baines competed in the second heat against Shiplake with Francis advancing to the final finishing first with Baines finishing second in their heat. Nuttall who usually coxes, tried her hand at sculling in the third heat but lost to the eventual winner of the event. In the final, Francis fought hard against Wallingford but lost by a narrow margin.
The next event was the J15 singles where Seth Vondrak faced Henley in a straight final. The two boys were evenly matched in the first part of the race but Vondrak used his experience from the British Rowing's recent Junior National Championships to pull ahead in the middle section. He maintained his lead and won by four lengths. Finally In the double sculls event for girls, Lily Warren and Alice Jones competed for the first time as a crew. They faced Wallingford and Shiplake in their heat who were both strong contenders. Wallingford took an early lead and kept it until the end, winning the overall event. Stratford and Shiplake fought for second place but Warren and Jones overtook them at the halfway point and secured their position, finishing second.
Stratford's J16 squad entered three crews, enjoying an early success in the double sculls when Jamie Wilcock and Will Dalrymple-Baker executed their race plan perfectly in a straight final against a Wallingford crew. The boys went off hard to open an impressive lead by halfway and maintained their composure with a two boat length advantage as they crossed the line. Next to compete was Elliot Baird in the J16 single sculls: Elliot found himself in a very competitive heat with scullers from Wallingford and Henley. A strong start saw Elliot well in touch during the early part of the race before eventually crossing the line a couple of lengths behind the other two crews in a closely fought finish. Finally, the WJ16 coxless quad of Jessica Long, Scarlett Richardson, Megan Rowan and Harriet Froom took to the water rowing up an age category against a composite WJ18 crew from Staines and Mundener from Germany. Despite a good start and clean row from the Stratford athletes, the age difference told with the very accomplished WJ18 opposition taking the win in blustery conditions.
From Stratford's J17 squad, Charles Happel stepped up to do battle in the Senior single sculls event.  Despite remaining in contact throughout, it was not to be Charles' day as his opponent from Upper Thames Rowing Club took full benefit of a home crowd and crossed the line first.
The weekend also saw Stratford upon Avon Boat Club masters and adaptive rowers competing against athletes from far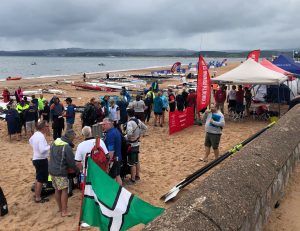 and wide with rowers in Germany in the European Club Championships on the south coast of England at the British Offshore Rowing Championships and also at Henley on Thames for the Henley Town & Visitors Regatta.
The British Offshore Rowing Championships took place off Exmouth and attracted its largest entry with rowers from the Czech Republic, France and Germany taking part in racing over two days.
Racing commenced on Friday with Stratford rowers Andrew Morris and Tom Doherty joined by their fellow rowers Ali Martineau and Kath Coleman-Jones from the Coastal Barbarians Club racing in the mixed ability quads sculls over a 4 km course. Up against crews from Fishguard, Llandaff and Mayflower, it was going to be a closely contested race with Mayflower with two of their senior men and Sophie Harris former GB Paralympic squad member.
A good start saw Stratford/Barbarians gain a half length lead which they held to the buoy turn out to sea. Over the next two kilometres, Mayflower edged back and both crews were racing for the buoy side by side in the choppy sea conditions. At the three kilometre buoy turn, Mayflower started to edge ahead by a length but drifted off course allowing Stratford/Barbarians to close and edge ahead and gain a short lead which they held to the finish. Said Tom Doherty, crew captain, "This was Stratford's Andrew Morris's first experience at sea rowing and he put in an incredible performance to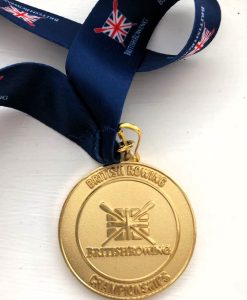 win a gold medal. It also shows there are no limits to what adaptive athletes can achieve."
Stratford were not finished with Tom Doherty back on the water half an hour later for the senior Men's 6km Double Sculls final with Robin Steward from the Mayflower Club. In a very competitive field of six crews, a good start saw the double edge into second place behind Jersey with Eastbourne neck and neck. A long side by side race ensued with Eastbourne finally pulling away at the three kilometre point. Jersey, who had been leading, began to tire and were pushed into second place as Stratford/Mayflower attempted to close on second and hold off a fast finishing Ardingly crews behind. Jersey rallied enough to hold onto second place with Stratford/Mayflower finishing in third place for the bronze medal.
Meanwhile, Stratford's Women's Masters were competing in the Euro Master Regatta in Munich. Stratford's Masters Women won five gold medals and secured several second and third positions of the thirteen events entered. The races were all extremely tight with often just a second between the top three places.
Particular congratulations to Suzie Radley, who won three of the gold medals in women's VIII; Amanda Bowden,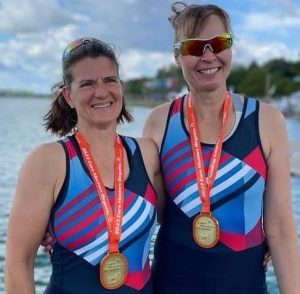 winning a gold medal in women's VIII; Heather Hayton, winning gold in a Mixed double and Kjersti Rogneflaten Woolley who represented Stratford across several boat classes at times combining with other clubs. All the events saw hard racing from everybody involved across the four days.
Commenting, Amanda Bowden, Stratford crew member, said, "Lining up on a start to hear the starter announce 'Great Britain' alongside the other international competitors was totally thrilling! It was hugely inspiring to race masters' athletes at this level, competing against other nations and great fun catching up with previous rowing friends and making new ones! Many thanks to all our supporters, with a special mention to Dan Simkins for boat support and David Bowden for the driving to and from Munich!"
For media mentions, see Stratford Herald page forty four and Stratford Observer back sports page https://www.stratfordobserver.co.uk/editions/view/?/Stratford/2023/08/04&pages=24
For more great pictures of Henley Town & Visitors regatta, see Kathy Baines' selection https://1drv.ms/f/s!AiW2DAyn9tg9j7QT6aOurkcIfval3A?e=NE1B7N