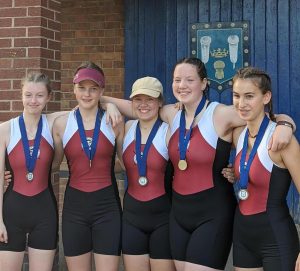 Stratford upon Avon Boat Club's J17/J18 performance squad sent several crews to Evesham to compete over the 1900m course on Saturday. First up was the J17 double of Tomi Wilcock and Will Beattie racing up an age group in the J18 event. They put in a strong performance to finish in second place, just five seconds behind the winners from Hereford Cathedral School.
Next up were the WJ18 doubles of Amelie Sartain and Fleur Griffiths and Freya Watts and Lucy Browne, with the latter also racing up an age group. On this occasion it was Sartain and Griffiths that were victorious with Evesham in second and Watts and Browne taking third place.
Division 2 saw the WJ18 coxed fours taking to the water. The performance squad crew of Browne, Ruby Howells, Bella Chappelhow, Harriet Holmes and cox Toby Sartain, raced well and took the win after Toby steered a near perfect course to take full advantage of the faster water.
The final division saw the WJ18 coxless quad take to the water. The crew of Watts, Howells, Amelie Sartain and Griffiths took an emphatic win, beating their nearest opponents by an impressive forty three seconds!
The J18 singles were next, again all three athletes were racing up an age group. Will Beattie had the best result finishing in second place, just three seconds behind the winner. Tomi Wilcock finished in fourth place with Toby Sartain in tenth place.
Honour Keil was the last squad member to race, also racing up in the WJ18 singles. She put in a solid row to take fifth place in a strong field.
Said Abi Terry, J17/J18 Performance Squad Coach, "It was great to get some good racing under their belts and even better to come away with three wins and really solid performances."
The WJ18 Club Group of Emma Harrison, Elisabeth Edwards, Imogen Hill, Martha Ussellman and Lucy Sartain raced against the Club's WJ 17/18 Performance Squad in a coxed four. In their first race in this crew combination, the girls put in a strong race against the Performance Squad and came in a very credible eleven seconds in second place with a time of 9:01 minutes
The J16 squad was represented by two single scullers. Charles Happel sculled a brave race and he set off hard and really attacked the 1,900m course. His race plan paid off with a strong second place losing out to a local Evesham sculler by just three seconds. Uche Nwachukwu raced in a large field of fifteen athletes displaying her excellent technique by finishing in a creditable fifth place.
In their first ever head race the Stratford Boat Club J15 Squad sculled fantastically well against strong competition. The WJ15.4x+ won Gold in 08:34, beating Royal Grammar School Worcester, Evesham and Hereford Cathedral School.
The J15 boys double missed out on Gold, beaten by the home crew of Evesham by twenty two seconds. The three WJ15 doubles did superbly and came fourth, sixth and seventh against well drilled crews from Evesham and Headington School Oxford. J15 Coach Hugo Happel said, "Our boys and girls sculled superbly in their first ever head race over 1900m upstream. They can row that longer distance and steer well on this challenging course. We now go back to training and look forward to Henley Long Distance Sculls in November."
Also making their first debut at a head race were the J14 Squad. In Division 1 the coxed quad of Alice Jones, Meg Nuttall, Sophie Evans, Poppy Baines and Lily Warren faced crews from Evesham, Abingdon and Headington School. The girls rowed very well against stiff competition and given they have only rowed the distance three times were well placed by the second check point, eventually conceding a win to a very creditable Headington crew.
Next up in Division Three double sculls were Seth Vondrak, Oliver Rowlands, Alexandra Francis and Meg Nuttall. Due to a lack of competitors the girls rowed in the Junior Boys' event. Both crews rowed exceptionally well, achieving a well-deserved second and third place being pipped at the post by a crew from Abingdon. Commenting Colin Bell, J14 Coach said, "Given their results the future looks promising for the J14 Squad."
For media coverage, see Stratford Herald online https://www.stratford-herald.com/sport/magnificent-results-for-talented-squads-9220418 and page fifty seven and also Stratford Observer online https://stratfordobserver.co.uk/sport/stratford-youngsters-are-head-above-the-rest-at-evesham and back sports page https://stratfordobserver.co.uk/editions/view/?/Stratford/2021/10/15&pages=024