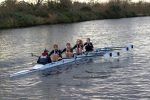 The weekend saw a welcome return to racing on the Gloucester and Berkeley Canal for the annual Wycliffe Small Boats Head.  Held over 2500m, the Wycliffe event always attracts quality crews from around the region and for the 42nd edition the competition did not disappoint.  As the wildfowl of the nearby Wetland Trust stirred from their slumber, the Stratford upon Avon Boat Club athletes pushed off to get racing underway in Division 1. The WJ14 coxed quadruple scull of Lucy Yang (cox), Poppy Baines, Alexandra Francis, Meg

Nuttall and Lily Warren were first down the course. Surging past a quality outfit from Hereford Cathedral School, the girls went on to take the bronze medal.  Later in Division 3, the open J14 coxed quadruple scull of James Albrighton (cox), Seth Vondrak,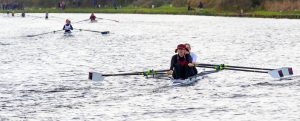 Ollie Rowlands, Sophie Evans and Alice Jones delivered more hardware with a commanding row to take the silver medal.
Stratford's J15 athletes continued their initiation to head racing and came back with an impressive medal haul. Lucy Sartain won Silver in the WJ15 1x category, beating the girls from Wallingford Rowing Club. Will Dalrymple-Baker won Bronze in the OJ15 1x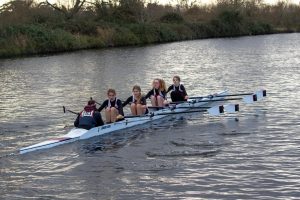 in 11:58.9, beating strong opposition from Queens Park High, Dart Totnes and Wallingford Rowing Club. Will and Jamie Wilcock collected Bronze in the OJ15 2x, in 10:37.9, beating crews from QPH, Dart Totnes, Kings Worcester, Hereford and Monmouth.
Charles Happel was the only J16 competing in the OJ16 1x event, and set a Silver medal winning time of 11:11.6, beating strong opposition from Queens Park High and Hereford Cathedral.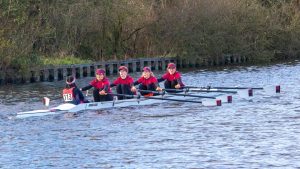 The day started early for Stratford's J17/18 Performance squad in Division 1, with Toby Sartain and Will Beattie finishing third in the open doubles event. Freya Watts (WJ17) and Amelie Sartain (WJ18) also competed in their respective singles races, both placing second overall. Later in Division 2, they raced alongside Fleur Griffiths and Lucy Browne in the WJ18 quad event, competing against fellow teammates Ruby Howells, Harriet Holmes, Martha Usselmann and Elisabeth Edwards. In a field of stiff competition, the girls finished eleventh and twelfth respectively. Tomi Wilcock and Will Beattie also raced in Division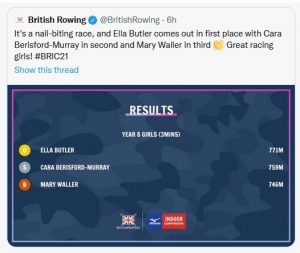 2, placing fifth in the open J18 doubles event. With the wind picking up in Division 3, Martha Usselmann stepped into the WJ18 doubles event to replace an injured teammate to row with Harriet Holmes, the pair achieving a strong fourth place, just ahead of Fleur Griffiths and Ruby Howells who finished fifth. The open J17 singles event rounded off the day for the squad, with Tomi Wilcock coming in second, and Toby Sartain just after in third.
Christine Goodwin and Gina Fusco, Stratford Masters also competed in the doubles event.
This weekend was also the annual British Rowing Indoor Championships which this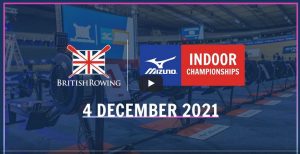 year took place in a fully virtual format.  Athletes competed for glory from living rooms, conservatories, garden sheds and garages across the globe. In her first year of rowing, Cara Berisford-Murray represented Stratford upon Avon Boat Club in both 500m and 3min races for Year Eight girls' category. In a thrilling three minute event, Cara walked through the field to secure the Silver medal just 1.5 lengths behind the winner.  Not satisfied with one medal, Cara went on to dominate the 500m sprint event taking Gold.  Commenting, Steve Wellstead,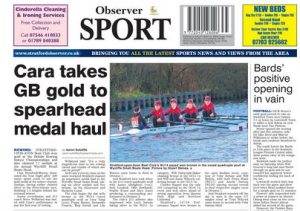 Junior Co-ordinator and J13 coach said, "A truly magnificent start to her rowing career and results of which she can be proud!"
For media coverage, see Stratford Herald page fifty three and online https://www.stratford-herald.com/sport/rowers-claim-medals-galore-9229376 and also Stratford Observer online https://www.stratfordobserver.co.uk/sport/rowing-stratford-upon-avon-boat-club-enjoy-success-at-british-rowing-indoor-championships-and-wycliffe-small-boats-head and back sports page https://www.stratfordobserver.co.uk/editions/view/?/Stratford/2021/12/10&pages=024
For more great pictures of Wycliffe Small Boats Head, see Stuart Baines' selection https://1drv.ms/u/s!AiW2DAyn9tg9j4MIWDlZpSwGKK7L_w?e=rYDQUC