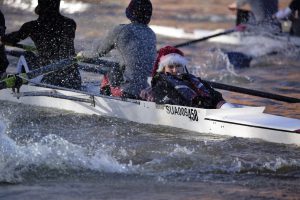 It was a bright, sunny morning, and Stratford upon Avon Boat Club were out in force with twelve athletes competing in freshly assembled crews for the annual Boxing Day Regatta. First up was Team A: Martha Usselmann, Matt Meynell, Heather Hayton, Elisabeth Edwards and cox Cameron Dalrymple-Baker vs Team B: Jack Arrowsmith, Will Dalrymple-Baker, Jackie Josbury, Amanda Bowden and cox Katie Phillips. All crews raced twice, switching their lane after the first race. A quick start saw Team A draw ahead but Team B held their own, keeping level with Team A until the final few lengths of the race where Team A pulled away to take the first win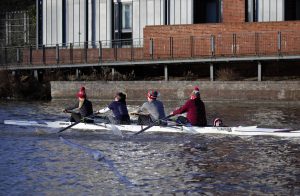 of the day. Both teams had a quick turn around and were soon back up at the start, ready to go again. Another quick start from Team A saw them claim victory once more, with Team B battling with them to the end.
Both crews were pulled in and Team A swapped out with Team C: Katie Phillips, Ruby Howells, Cameron Dalrymple-Baker, Dave Edwards, and cox Elisabeth Edwards. Team B stayed on, swapping their cox for Martha Usselmann. Crews paddled up to the start and moved off with a strong start
but the slightly fresher Team C gradually pulled away from Team B to take the lead, crossing the line just ahead of Team B. Both crews turned and headed back up on opposite sides. Once again both crews had a strong start, with Team C pulling away initially but Team B keeping the pressure on them. Team C crossed the line first but their aggressive racing line caused Team B to move close to the bank to avoid contact which led to
the race being considered a draw.
Finally Team A swapped in with Team B, with both crews changing their coxes to Amanda Bowden (A) and Will Dalrymple-Baker (C). Both crews headed up to the start line for the final two races of the morning. Once more, quick starts from both crews were seen and they kept level with each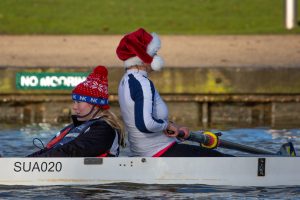 other for the first half of the race. A burst of pressure from Team A as the crews passed the theatre saw them move away from Team C in the final stages of the race and take victory. Both crews took a leisurely paddle back up to the start in an attempt to catch their breath and lined up once more. Both crews were quick off the mark and kept level, with Team C starting to move ahead as the crews reached the halfway mark, however a well timed call from Team A's cox saw the boat gain speed and move away from Team C just as the crews crossed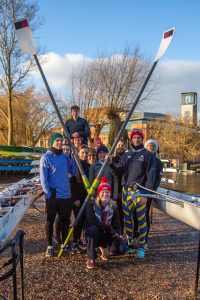 the finish line.
With four wins across the morning, Team A were declared the victors and were each awarded a Stratford Boat Club tankard. Tankards were also awarded to all who coxed, as well as one being awarded to the brilliant finish marshal, who helped signal the end of each race.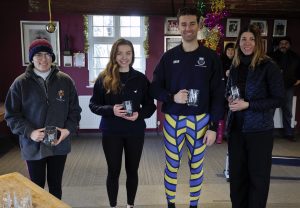 Commenting, Paul Stanton, the Club's President said, "Many thanks go to Trevor Tiller, Zöe Edwards, Helen Smith and Ian Wilcock for marshalling and to Dave Edwards for organising the event."
For media coverage, see Stratford Herald pages forty and thirty eight.
For more great pictures of the Boxing Day Scratch Regatta, see David Phillips' excellent selection https://1drv.ms/u/s!AiBE8NqoVVypgg6L22bLS2AnUG6E?e=3kjYqr