An early, crisp start welcomed Stratford upon Avon Boat Club's J14 squad as they arrived to do battle on the 2.5km course held on the Gloucester & Sharpness Canal in the Wycliffe Small Boats Head on Saturday. First down the course was the WJ14 coxed quadruple scull of Isla Dunn, Cara Berisford-Murray, Martha Baines, Martha Cooke and Bryony Francis (coxswain). A plucky row saw them in the mix with the Bristol Rowing Club and luminaries of the junior rowing scene Henley Rowing Club. The crew eventually placed fourth and within touching distance of the crews ahead. Next up where the three Stratford WJ14 double scull crews of Bryony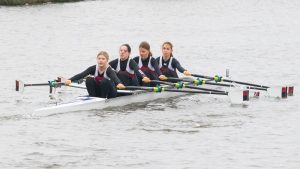 Francis and Sophie Franklin, Millie Smith and Tessa Parkin and Becca Smith with Poppy Warren. In a hard fought event, the Stratford crews placed third, fourth and fifth with the Parkin/Smith crew picking up the bronze medal. Finally, the WJ14 single sculls took the water with Maeve Dunn and Josephine Cooper representing Stratford. Both girls put their hard training to work and sculled tremendously to be placed third and fifth with Maeve Dunn collecting the bronze in emphatic style.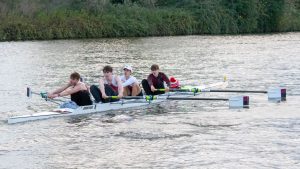 Representing the Junior 15 squad in their inaugural single sculls rowing head were Alexandra Francis and Xavier Sissins-Rofey. Francis, racing against fourteen crews faced her double scull rival from City of Bristol. Francis starting behind the Bristol sculler, she closed the staggered start gap and crossed the finish line in first place. Given Sissons-Rofey only started rowing a year ago, he managed to cross the line in seventh place out of a field of fifteen crews. Representing the girls in the quadruple sculling event were Sophie Evans, Poppy Baines,

Lily Warren, Lucy Yang and Alice Jones (coxswain) finishing sixth out of fifteen crews. Finally, in diminishing light and low temperature conditions, the boys quadruple scull of Theo Richter, Seth Vondrak, Ollie Rowlands, James Albrighton and Meg Nuttall (coxswain) took to the water finishing fifth out of fifteen crews.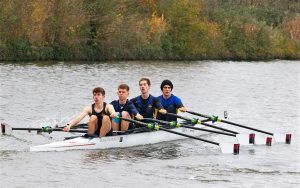 With exams impacting the availability for racing this weekend, the J16 squad took just five athletes to Wycliffe Small Boats Head. First up in Division 1 was the J16 women's coxless quad of Jess Long (stroke), Molly Vondrak, Scarlett Richardson and Aimee Appleton (bow).  After a strong start out of the bridge, they managed to pass local rivals Kings School Worcester and then with open water ahead of them, continued to work hard for the rest of the race finishing in gold medal position, seventeen seconds ahead of Thames Scullers and twenty six seconds ahead of the Kings School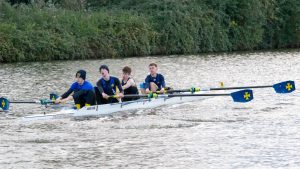 Worcester boat.
In Division 2 Vondrak and Richardson doubled up to race again in the WJ16 2x. Pushing hard throughout the race, they pulled away from a chasing Thames Scullers' crew to secure a bronze medal, only narrowly missing out on silver by 0.2 seconds. Following them was Will Dalrymple-Baker in the open J16 1x. In a strong field of thirteen athletes, he rowed hard and consistently to gain a respectable fifth place.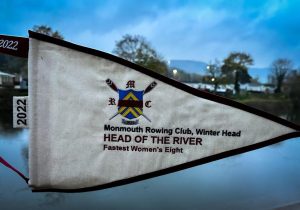 Last up in Division 3 was Appleton in the women's J16 1x for her second race of the day. Rowing a tidy race and pushing hard in the last 500m, she secured seventh in a competitive field.
The J17/18 squad started the day on a high note as the WJ18 4+ of Kate Richardson, Harriet Noyes, Maddie Hall, Amalia Richardson and cox Poppy Baines set off for their race in the first division. Despite Baines being a last minute substitute, they rowed strongly to win their event posting a time of 9:49.2. The two J18 doubles of Will Beattie and Tomi Wilcock, and Charles Happel and Toby Sartain were next to race for the squad in the second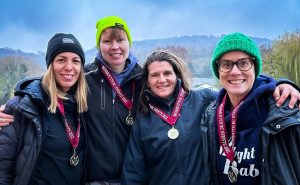 division. Beattie and Wilcock set off first and sculled superbly to come home in first place, ahead of fifteen other boats. Happel and Sartain followed them down the 2.5km course, and came over the line in joint seventh place, setting an identical time to the crew from The King's School Worcester. Division three saw Beattie, Wilcock, Happel and Sartain race as one crew in the Open J18 4+ event, again with a late substitute cox who was kind to step in despite being from the RGS Worcester squad. They rowed confidently, despite being an inexperienced combination, however they were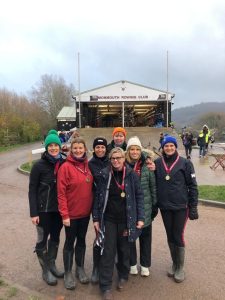 unfortunate to be outpaced by strong crews from Winchester College and King Edward The Sixth School and finished fourth overall.
Also competing at Wycliffe Small Boats Head was Stratford's sister club, King Edward The Sixth School: the first race of the season for KES saw a quad and four competing. With a last minute substitution due to illness, the quad was up first in a strong field of J18 quads. Ed Rose, Rafa MacDonald, Tom Wheeler and Will Dalrymple-Baker had a good scull, completing the course in 8:53, putting them in sixth place within six seconds of a medal. In the afternoon, again with last minute substitution, the same crew went out in the coxed four with Poppy Baines from Stratford coxing. They had another decent row finishing in bronze medal position behind two strong crews from Winchester College.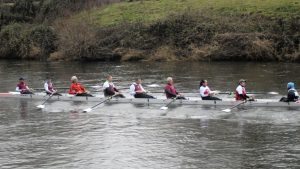 Not to be left out, Stratford's Masters' squad travelled to Monmouth on Sunday to compete on the River Wye. The women's new masters eight of Amanda Bowden, Suzie Radley, Charlotte Jones, Heather Hayton, Jane Cryer, Kjersti Rogneflaten Woolley, Ellie Davis and Ruth Poulten won Monmouth Head over a 2.5 km course. Not only that, but they were the pennant winners for the fastest women's eight for the day at 6.55 minutes!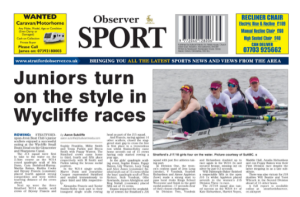 This is a superb achievement to this newly formed eight in their first race and it shows the strength of women in the Club. Said Charlotte Jones, crew members, "Despite the cold, damp conditions, the women were determined and, with Amanda at stroke, we set a good rate. Women's rowing at Stratford Boat Club is just getting better and better!
Not satisfied with just one win, Stratford's women's' masters quad of Heather Hayton, Amanda Bowden, Ruth Poulten and Suzie Radley raced for a second time to win in a time of 7 minutes19 seconds! Suzie steered a great
course keeping hold of the stream.
Also at Monmouth on Sunday, a Stratford Masters 8+ debuted at the Winter Head, competing in the Mixed Masters D/E/F category. The crew, with an age range of 45 to 76 years old, raced the 2500m downstream in cold but thankfully calm weather, guided confidently by their experienced cox Isobel
Moore who has been coxing for Stratford since she was a junior and more recently, coxing for University of Edinburgh Boat Club.
In their first 500m, the crew pushed firm, finding their pace for the 2000m still to come. With their opposition from Avon County Rowing Club ahead of them, the enthusiastic Stratford crew were ready to battle for a win in their very first race as a crew. Entering their last 500m, the crew dug deep to find those last strokes, their energy restored and spirits lifted by shouts of
encouragement from the bank as they crossed the finish line.
Having only come together as a crew this autumn and with just a few weeks of training to prepare, the group was pleased with the result of their hard work, even if they missed out on a win. No doubt the presence of two Level 2 coaches in the crew was a blessing, with both Joe Moore and Alfie Nash bestowing their years of rowing expertise to the crew. Another mention must go to Alfie for completing his first race as a rower, having only coxed in previous races, as well as to David Day for his racing debut at 76 years old! The crew are already back to training and looking ahead to plan their next race in the new year. The crew consisted of Christine Deacon, Clare Booth, David Day, Joe Moore, Simon Moore, Alfie Noakes, Paola Ward, Rona Fitzpatrick and Isobel Moore (cox).
For media coverage, please see Stratford Herald https://www.stratford-herald.com/sport/junior-squads-make-waves-9288103 and page forty four and Stratford Observer https://www.stratfordobserver.co.uk/sport/rowing-success-for-stratford-juniors-at-wycliffe-small-boats-head and also back sports page https://www.stratfordobserver.co.uk/editions/view/?/Stratford/2022/12/09&pages=024
For more great pictures of Wycliffe Small Boats Head, see Stuart Baines' excellent selection https://1drv.ms/u/s!AiW2DAyn9tg9j6BfI3pyu0CSN51jdA?e=18GHXv