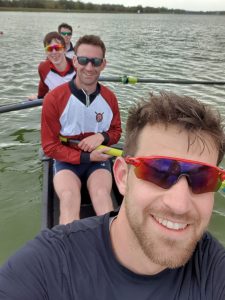 On a perfect but cold and windy weekend, Stratford upon Avon Boat Club's squads went to various locations to test their skills.
The Senior Men's elite squad spent the weekend at Nottingham training on the multi-lane course honing their technique in preparation for Henley Royal Regatta in July.
Said Bill Sullivan, Senior Men's Elite Coach, "It was windy and cold in Nottingham but the boys got in some good training putting them in a good position for the preparation for some hard racing at Henley."
Heading to the other end of the country on Saturday were two senior crews from Stratford upon Avon Boat Club who travelled to Totnes in Devon to compete in the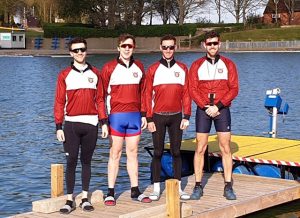 annual Head of the Dart River Race. This year the processional time trial was planned to run from Totnes to Dartmouth over a distance of fifteen kilometres.
Due to weather and river conditions on the day, organisers deemed the conditions at the lower reaches of the river toward Dartmouth too dangerous to run the event over the planned full course. The decision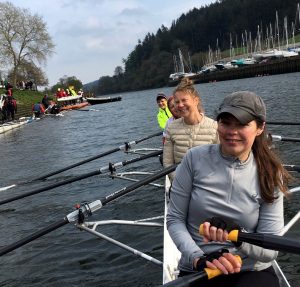 was made to run the race over a shortened five kilometre course, which involved crews rowing down to the revised start and then rowing back up to finish adjacent to the Dart Totnes Amateur Rowing Club.
The re-scheduled shortened race still attracted over one hundred crews from all over the United Kingdom taking part in a very varied range of coastal and river boats (including pilot gigs, canoes and fine boats). Stratford crews rowed in fine boats, more suited to calm inland river conditions.
After launching boats from the Dart Totnes Amateur Rowing Club clubhouse in Totnes, crews rowed down to what became a very congested marshalling area. Once underway, the race itself required a high level of skill in negotiating the tight and winding course, navigation buoys, mud flats, river traffic as well as other competing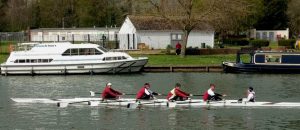 crews. Due to the delay in the start time, rowing against an outgoing tide and south-easterly winds made conditions severe with a high risk of the boats taking on water.
Top Stratford Boat Club performers on the day were the Women's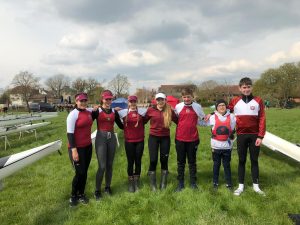 Masters crew (coxed quad) of Rosie Stone, Andrea Duxbury, Clare Nash, Rona Fitzpatrick and Alfie Nash (cox), winning their category in an adjusted race time of 00:26:21.
The Stratford Men's Masters crew (coxed four) of Simon Skillings, Graham Cann, Dave Edwards, Richard Anderson and Jessica Cann (cox) finishing in an adjusted race time of 00:26:43.
Said Alfie Nash, Women's Masters crew coach, "Although the event was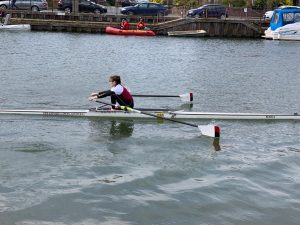 a logistical challenge with the transportation of boats to and from the start and finish locations, it proved to be a very interesting and enjoyable challenge to all crews taking part. Those crews stopping over in Dartmouth and Totnes were able to fully appreciate the hospitality of the host club as well as fellow competitors!"
Meanwhile, Stratford upon Avon Boat Club J13 squad entered three crews in Abingdon Rowing Club's Spring Head of the River Race on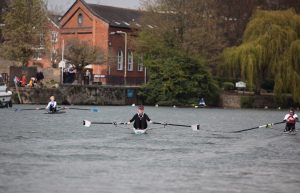 Sunday held on the River Thames over 1850m
The first to boat in Division One at 8.00hrs from an icy pontoon was Imogen Hill and Maddie Hall in their double scull. Undaunted by their first experience of a major event raced over two kilometres, they sculled superbly to finish third in a time that would have beaten two WJ14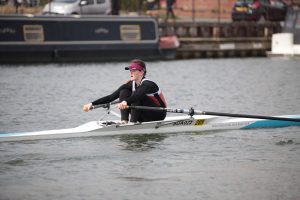 crews.
Next to race in Division Two was the WJ13 4x+ of Emily Stobart, Grace Beason, Uchenna Nwachukwu, Ruby Brooker-Collins and cox Kate Richardson: they soon showed they have what it takes to mix it with the big clubs by finishing second splitting the two Henley crews.
In Division Four, the Open J13 4x+ of Ciara Wilson, Louie Beason,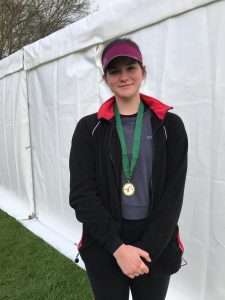 Amalia Richardson and Millie Hodgson coxed by Imogen Hill mixed it with boys crews to come third in an identical time to the girls' quad of 10minutes and 38 seconds. Said Sam Hill, J13 coach, "The results were really encouraging and the whole squad displayed good technique all the way to the finish."
Matilda Watts and Geoffrey Flambert also both put in strong performances in the J17 1x events finishing fourth and sixth respectively.
The J14 squad was also in Abingdon. In Division One, the squad was represented by the J14 2x of Tomi Wilcock and Will Beattie. Rowing in the higher band, they put down a very strong performance to take the Band One win by seven seconds, despite coming up against very good opposition.
The WJ14 4x+ of Freya Watts, Fleur Griffiths, Bella Chappelhow, Harriet Holmes and cox Toby Sartain were also placed in Band One and despite putting in a good time were just pipped by a crew from Wallingford and were beaten by just four seconds to take second place.
Division Two saw the first of the Stratford J15's take to the water. The WJ15 singles of Sophie Elstone and Harriet Hodgson both raced well with Elstone battling at the top of the field to take a brilliant win, a second over her closest rival from City of Oxford. Hodgson also put in a good performance finishing eighth.
Will Clarke raced in the J15 single against some strong opposition and managed a sixth place finish. The J15 double of Conar Aitchison and Emma Harrison raced against some all boys crews to finish eighth.
In Division Three, more of the J14's took to the water with the J14 4x+ of Tomi Wilcock, Will Beattie, Ruby Howells, Bella Chappelhow and cox Toby Sartain in action. Again they faced some strong opposition from Wallingford and were unfortunately unable to overhaul the all-boys crew to finish second by just four seconds.
Next up were the WJ14 double sculls with two Stratford boats in action. The first was Fleur Griffiths and Harriet Holmes, again facing a crew from Wallingford. This time the girls were able to overhaul the opposition and take the event win. The other Stratford crew of Freya Watts and Anne Mynors also put in a very good performance to finish in a highly credible fourth place.
Division Four saw the final Stratford crews of the day racing again with more J15's on the water. The WJ15 4x+ of Emma Harrison, Abbey Meggeson, Harriet Hodgson, Julia Zanpronio Gurden and cox Sienna Rawlings raced strongly to finish in sixth place. Also racing in this division was the J15 double of Will Clarke and Sophie Elstone who again raced against a lot of all-boys crews to finish in sixth place beating several crews in the process.
The final J15 crew was Conar Aitchison in the single who, despite being rather nervous about competing in the single, had a good race to finish in fifth place over a minute ahead of the sculler behind him.
This week also sees the J17/18 squad on a training camp in Henley and next week is the turn for the existing J13/J14/J15 squads to train at Stratford.
For media coverage, please see Stratford Observer online https://stratfordobserver.co.uk/sport/busy-weekend-for-stratfords-rowers and Stratford Herald page 15.