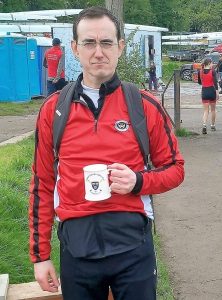 Busy Coronation Weekend for Stratford & K.E.S. in Munich, Dorney Lake & Shrewsbury. Harriet Noyes won her first GB vest after a gruelling selection process that started in October 2022. After training hard over the winter at their home clubs, the athletes looked forward to Munich as this was the first opportunity to see how their junior crew measured up against international competition.
Rowing in a pair with Isadora Kennedy on Saturday, Harriet won a bronze medal in a very tight final finishing less than a second behind her teammates in the other GB boat.
On Sunday Harriet and her pair's partner Isadora were entered in the Coxless Four event. They went out hard leading the field by over a length at the halfway marker. Gradually the Swiss crew started to reel them in as the second GB crew held on to third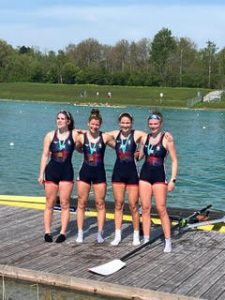 place. Harriet's crew picked up the rate to 38 stroke per minute in the last 250 meters to take the gold medal by half a length.
Sam Hill, Harriet's J17/18 Coach at Stratford said, "Munich has proved to be a remarkable international debut for Harriet and we hope she can continue to represent GB U19s through the summer regatta season."
Commenting further, Dawson Curnock, Stratford Boat Club's Chairman said, "The whole Club would like to firstly send massive congratulations to Harriet on her outstanding performances in Munich: we are more than proud of her. Furthermore, congratulations also need to go to her coaches at Stratford upon Avon for matching her goals with their expertise to facilitate the opportunity to get to row for GBR along with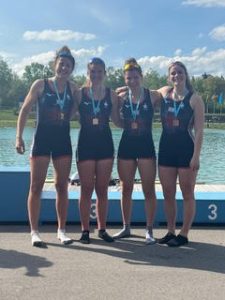 her crew at the Club as well. Nor must we not also forget her crew members at Munich, thank you for looking after Harriet, pulling together when it matters, greater together! Lastly, thank you to Team GBR for giving Harriet this great chance: she will not let you down!"
Also finishing off the Coronation weekend were two members from Stratford upon Avon Boat Club's Mixed Ability/Adaptive squad who attended Shrewsbury Sprint Regatta.
Commenting, Mark Dewdney, Stratford's Head Adaptive Coach said, "After three event cancellations, it was relief to get two members of the squad competing. Unfortunately, many of the large boat club adaptive squads may have to wait to June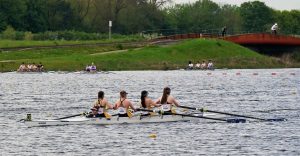 to make their regatta season debut."
Andy Morris's final in the PR3 (limb) singles' event was against a sculler from Runcorn: the Runcorn man started slightly better than his Stratford opponent and established a small early lead. However, Andy's more polished technique and race experience soon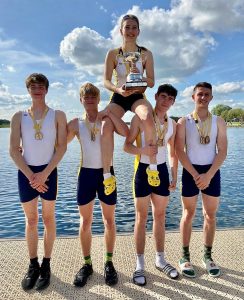 began to tell. By halfway, Andy had passed the Runcorn competitor. He consistently built on his lead and won the race by about three lengths.
Jake Blatcher in the Open singles mainstream event raced a Shrewsbury local Pengwern competitor in his final. Unfortunately, a rather untidy first hundred metres put him well behind: a deficit he was not able to claw back on the 600m course. It was a good performance spoilt by the start in the final. Jake is due to compete again at Monmouth in three weeks' time.
Also over the Coronation weekend on Sunday, Stratford Boat Club's sister club King Edward VI School Boat Club departed Stratford at 06.00hrs and headed to Dorney Lake to compete in the Ball Cup South Regatta. The original Ball Cup Challenge was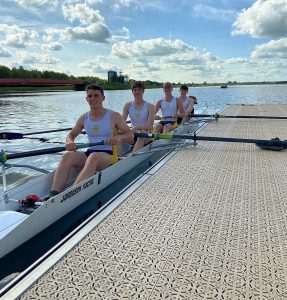 founded by K.E.S. in 1934 so this regatta is a big one for the school. It is now held over the last 750m of the 2km Olympic lake.
K.E.S. took a squad of fourteen athletes entered across six different events. First up were the J18 double sculls: this event consisted of three heats where the fastest six crews across the board qualified for the final. K.E.S.'s A crew of Tomi Wilcock and Ed Rose rowed in the second heat and had a good start, taking an early lead, they paced the race well maintaining a lively rate and crossed the line first. In the third heat the B crew of Tom Beard and Rafa MacDonald had a steady start and settled into a good pace and started to pick up in the last 150m but it wasn't quite enough and finished in second place.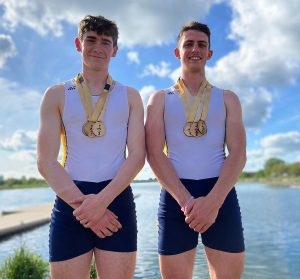 The times were out almost immediately and it was pleasing to see both crews had qualified for the final in first and fourth positions. An hour later, both crews boated for their final, Tomi and Ed in Lane Three and Tom and Rafa in Lane Five. Tom and Rafa had a superb start taking an early lead but unfortunately couldn't hold the pace as the faster crews settled into their rhythm and steadily went ahead. Tom and Ed had a good start and settled again into a nice lively rhythm really pushing the other crews: their final sprint saw them pulling away to take the win over Itchen Imperial and Radnor College with Tom and Rafa finishing in fourth place.
Up next was the Girls Ball Cup 4+ event. The K.E.S. crew of Imogen Hill,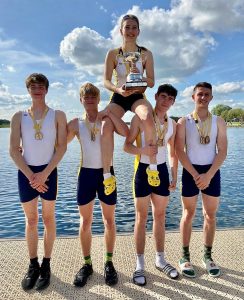 Lucy Browne, Maddie Hall, Kate Richardson and Amalia Richardson (cox) were a scratch crew having only had one outing in this combination. They went off the start cautiously but quickly and soon found themselves in the lead in this straight final of three boats. They soon settled in and had found their rhythm, looking neat they gradually pulled away from the crews from Sydenham High School and Cambridge City to take the win and claim the trophy!
Ten minutes later was the J18 4x of Tomi Wilcock, Tom Wheeler, Tom Beard and Ed Rose. Another straight final with some stiff competition from the likes of Whitgift School and Globe Rowing Club. The boys had a strong start and kept up the pace throughout: they were just squeezing out in front when unfortunately they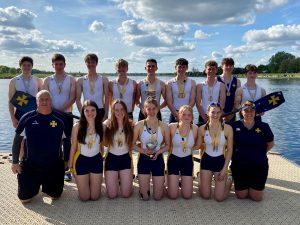 clipped the buoys and one of the crew caught their blade under the water and this saw them drop almost to last place. With the adrenaline now flowing, they absolutely flew back into contention but unfortunately didn't have enough course left and came home in bronze medal position finishing just 0.4 seconds behind silver.
In the third division of the day, Tom Wheeler went out to race in the J18 1x sculls: this was a packed event with three heats, the same format as the doubles earlier in the day. Tom's second race in the single, he started well and sculled professionally throughout, pushing on into the last 150m. He finished fourth in his heat: unfortunately, this wasn't enough to see him through to the final finishing eighth overall.
Finally it was the turn of the Boys Ball Cup fours with a straight final between K.E.S. A crew of Tomi Wilcock, Tom Beard, Rafa Macdonald, Ed Rose and Imo Hill and K.E.S. B crew of David Shilvock, Tom Woodcock, Milo Cullimore, Joe Warner and Kate Richardson. The A crew had a fantastic row in almost perfect conditions to take a convincing win, beating the winning time from last year's regatta. For three of the B crew, this was their second ever race with the whole crew having only started rowing in September. They had a good row and it was a fantastic experience for them and they will be back next year to take the win!
Commenting, Hannah Crone, Head of Rowing at King Edward VI School, "Overall, a great day for K.E.S. Boat Club, claiming a total of five medals from seven crews!"
For media coverage, see Stratford Observer online https://www.stratfordobserver.co.uk/sport/rowing-busy-coronation-weekend-for-stratford-in-munich-dorney-lake-and-shrewsbury, Stratford Herald page fifty five and British Rowing https://www.britishrowing.org/2023/05/gb-junior-rowers-bring-home-a-flurry-of-medals-from-munich-international-junior-regatta-2023