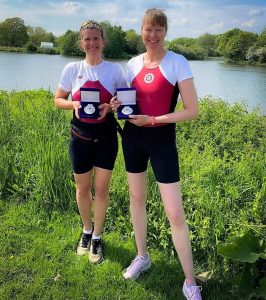 Stratford upon Avon Boat Club Masters rowers enjoyed glorious conditions at Nottingham Masters' Regatta. It is not often that it can be said it was a light head wind at Nottingham! Amanda Bowden and Suzie Radley, racing in The Tempest, a double scull, grasped the opportunity to go off the start hard, moving quickly into the lead and stayed ahead throughout the race. The women were delighted to receive bespoke Coronation medals and complete the 1km race in a time of 4.07 minutes. Said Amanda Bowden, "The women's masters double will return to the course for the British Masters' Championship in June."
Shortly afterwards Stratford's Ed Lewry and Nick Sartain took to the water in the open senior men's doubles. After a slightly slow start, they found some rhythm and pushed through the field before coming home third in a close finish.
Following on from Suzie's and Amanda's very successful race was Heather Hayton and Tom Doherty racing in a combined age group mixed doubles event against two Masters' C crews average age forty three years, two Masters' D crews average age of fifty years and two Masters' E crews average aged fifty five years.
A staggered timed start saw the Stratford Masters E crew chase down the other Masters' E crew and national champions and race favourites Lakeland out to the 250m mark. A concerted push saw Stratford managing to stay with Lakeland at the halfway 500m mark. By this point in the race, the younger crews were beginning to close on the leading crews which lead to a hard third quarter of the race as Stratford worked to stay with Lakeland and hold off the four boats closing behind.
By the 750m mark, Lakeland had moved further ahead with a length of clear water and Stratford were level pegging with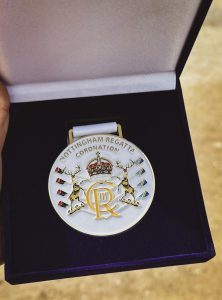 Warwick and Nottingham Masters' C crews. Big pushes from all three crews saw an exciting finish for second place with Warwick edging in by three seconds and Stratford and Upton being split by half a second with Sudbury and the RAF well beaten in fifth and sixth.
Later in the day saw Heather Hayton and Tom Doherty take to the water again in their mixed masters quad with Julian and Tabatha Scrivener from Upton Club to take on a Bentham/Maidstone composite crew in a head to head clash. A fast start saw the Stratford/Upton quad quick out of the blocks rating forty five strokes per minute to establish a half length lead by the 250m mark. A high tempo push out to the 500 metre mark enabled the Stratford/Upton crew to establish a length of clear water and in the second half of the race, the crew were able to continue to build on the lead eventually winning by a comfortable margin.
For media coverage, please see Stratford Herald online https://www.stratford-herald.com/sport/masters-among-the-medals-at-nottingham-9313131, page fifty five and also Stratford Observer https://www.stratfordobserver.co.uk/sport/rowing-boat-clubs-masters-rowers-crowned-at-nottingham