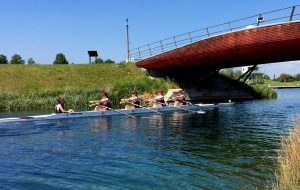 After many long months training in isolation and a precious few weeks back on the water, Stratford upon Avon Boat Club's Junior Squad were at last back racing at the weekend.  It was to be a baptism of fire for our older athletes with the first event back being the National Schools' Regatta held over 2000m on the Olympic course at Eton Dorney.  Running as a "Behind Closed Doors" event, the venue was eerily quiet without the usual marquees, trade stands and spectators.  The competition on the water however remained fierce as the top rowing schools and clubs from across the country turned out in force eager to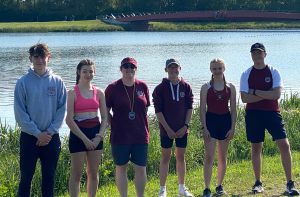 show the fruits of the lockdown labour.  Just two crews from Stratford Boat Club's J17/18 squad competed under the limited entries permitted. Alice Baines and Amelie Sartain flew the flag in the Championship Double Sculls and recorded a creditable twenty second place ahead of some of the premier rowing outfits nationally.
On Sunday Stratford Boat Club's J16 Junior Squad also travelled to Dorney Lake for the National Schools Regatta where they took a WJ16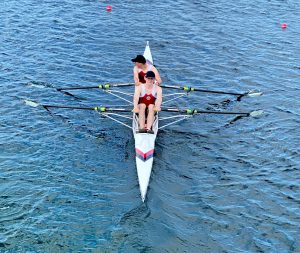 coxless quad. The squad rowed really well in the time trial and fought hard, but came up against some strong schools that had been able to train throughout lockdown and ended up finishing in a very respectable twenty sixth place.
On Monday the rest of the J16 squad also travelled down to Dorney Lake, to race at the Junior Sculling Regatta. First up, very early, was the J16 double of Tomi Wilcock and Will Beattie. They raced hard in their time trial to place eight and gain their place in the B Final. The next time trial was Toby Sartain in the J16 single sculls. He sculled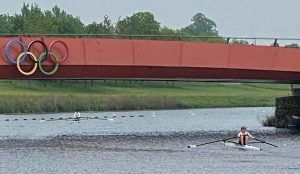 with finesse to put him into fifteenth place and safely into the C Final. The last time trial for the J16's was for the WJ16 double scull of Honour Keil and Harriet Holmes. They put in a great effort to take seventeenth place and again a place in the C Final.
Later in the day the finals happened in the same order as the time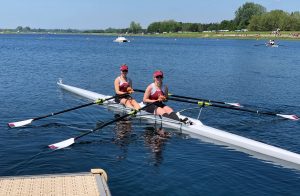 trials. Wilcock and Beattie were first in their B Final of the doubles where they raced hard, coming off the start in first, by halfway they had dropped to third. During the second half they pulled their way back through into second place and were catching up first, but ran out of lake, finishing in second place. Next up was Toby Sartain's C final in the singles. He raced really well, quickly slotting himself into fourth place, which is also where he finished. He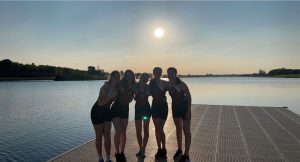 was catching third towards the end but had just too much to do. The last J16 final was the C Final of Keil and Holmes in the double. They went off the start fast but quickly slotted into sixth place. They fought all the way down the 2km track to catch fifth and were catching up quickly on fourth, but didn't quite have enough left to take them so finished in fifth place.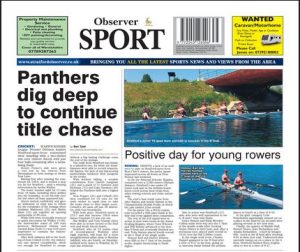 Said Abi Terry, J16 coach, "It was great to see the J16's racing again after a year and half without any recent racing, we can't wait for the next event!"
For Stratford's J15 squad it was also back to sculling regattas at long last and what a way to start the season! Whilst some fifteen year olds might have chosen to spend their half term holiday weekend relaxing at the pool or beach, Stratford's J15's chose to test themselves over the 2012 Olympic course at Dorney Lake not once but sometimes twice on the hottest day of the year so far!
Time trials to select crews to proceed to A, B or C finals were the first challenges over 1900m. Up first was Grace Beason and Ruby Brooker Collins double sculls returning a time of 9:29 which was an excellent effort placing them in the C final. They raced just as enthusiastically in their final finishing sixth in a time of 10:42 over the full 2000m.
Next up was Charles Happel rowing a single scull. He demonstrated great technique and great effort recording a time of 8:37 which placed him in the B final. Similar enthusiasm, grit and determination saw him finish an admirable fourth in the final in a time of 9:32, only five seconds behind third place.
Our lady single sculler was Uche Nwachukwa who sculled with great determination, against very strong competition, to finish seventh in her time trial missing a place in the final by just six seconds. A truly great effort.
Finally Stratford's WJ15 quad of Maddie Hall, Harriet Noyes, Kate Richardson, Amalia Richardson and expertly coxed by Imogen Hill sculled with great precision and energy to record a time of 8:02 in their time trial, just missing a place in the A final by 1.8 seconds. Determined to make amends, they set off at a blistering pace to lead the B final by a length at the 500m mark. Guilford tried to hang on, but broke at half distance leaving Latymer to take up the chase. Stratford saw them coming and opened the taps leaving them for dead in the last 500m to win by three lengths. It was a perfectly executed race in a winning time of 8:47, quicker than both Hinksey and Maidenhead in the A final!
Commenting, Steve Marsden, J15 coach said, "A great performance from all our crews who, as always, performed above and beyond all expectations against the "top" boat clubs. Well done all – they now know the pain and pleasure of competition over a grueling 2km regatta course!"
For media coverage, see Stratford Herald page fifty three and https://www.stratford-herald.com/sport/bumper-weekend-for-junior-squad-9202430 and also Stratford Observer back sports page, https://stratfordobserver.co.uk/editions/view/?/Stratford/2021/06/11&pages=024 and https://stratfordobserver.co.uk/sport/stratfords-young-rowers-buoyant-after-regatta-events