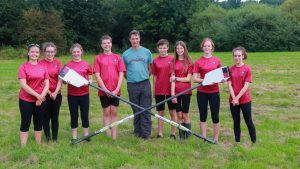 The August Bank Holiday weekend is synonymous with the Ross on Wye Regatta for the athletes of Stratford upon Avon Boat Club. The event marks the close of the 2020/2021 racing season and made a much welcome return this year following a two year hiatus.  Always a superb event – this year was as expected with crews from across the club competing for victory on the Wye over 500m and 750m courses across two days.
For the Sunday sprints, conditions were perfect.  The Herefordshire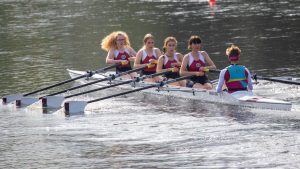 sunshine split the mist over the Wye heralding the commencement of racing. Representing the Masters squad the dream team of Tom Doherty and Heather Hayton met their double sculls nemesis from Dart-Totnes and whilst closer were unable to avenge prior defeats.
Ross was only the J13's second regatta. They demonstrated excellent steering skills by negotiating the long bend and its current without a hitch. Sophie in her 1x was pitted against girls a year older in the J14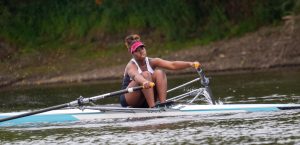 category, finishing second, but with a very credible and solid performance. The 4x+ of Meg, Poppy, Alex, Sophie and Lily kept up well with their City of Bristol competitors, finishing a couple of lengths behind. Ollie Seth sailed through their semi-final, kept a very good line around the centre buoys on each race and galloped to victory against QPH in the final. Last but not least, both the W2x of Meg and Alex and W2x of Poppy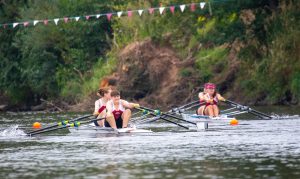 and Alice won their semi-finals and raced in all Stratford final, which Meg and Alex carried to victory – a credit to both crews. Said Richard Nelson, J13 Coach, "The J13s have come a long way in a short time and their form at Ross Regatta is a tribute to their athletic dedication and strong team spirit throughout this turbulent year."
Sunday 29 August was a great day for the Stratford Boat Club J14 scullers. For some, it was their first ever competition. The J14 boys did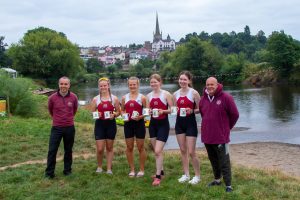 brilliantly against tough competition from Queens Park High, Upton and Evesham, in the 1x and 2x categories. The J14 girls did equally well against their opposition from Bristol, Evesham, QPH and Staines. In the WJ14 2x Final, SuABC (Appleton/Rowan) had a strong last 200m and were beaten by a canvas. In the WJ14 1x Final, Stratford's (Vondrak) was ahead of her Evesham opposition after 300m but clipped a buoy and capsized. She stood up and gave a thespian bow which gained her the biggest round of applause from the bank. The J14 athletes ended an adrenaline fuelled day by splashing each other in the river Wye!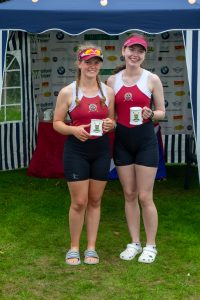 For the Monday 750m event, the sunshine stayed away but still conditions continued for another day of racing. Undeterred by the prior day, Stratford Boat Club's Masters squad stalwart Heather Hayton was again disappointed as her opposition from Bedford rowing club withdrew from the event to avoid certain defeat. Representing the Adaptive squad, Jake Blatcher in the single scull performed well but narrowly missed out on a place in the final. In their final regatta as Juniors (for some), the J17/J18 athletes of Mili Wilcock, Amélie Sartain, Maiya James and Alice Baines represented the club in coxless quadruple sculls, double sculls and single sculls throughout the day. Commenting, Steve Welstead, J17/18 Performance Squad Coach and Junior Co-ordinator said, "The J17/18 squad swept the board in what can only be described in a "pot-tastic" set of races with all crews winning their events!"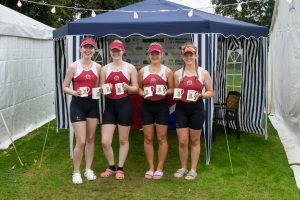 Stratford's J15 athletes attended the last regatta of the season before the new rowing season as J16. A very full day of racing but proving to be very successful as yet again our junior athletes performed over and above expectations.
First up for Stratford was Uche Nwachuckwa who sculled very powerfully to overcome competition from Evesham and Ross rowing club setting up a semi final race with her colleague, Grace Beason before meeting Saunders of Evesham in the final. Again demonstrating great power and style, she eventually lost by three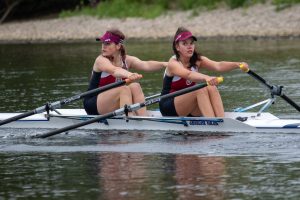 lengths. Grace Beason had earlier powerfully steered a great course to win against Ross rowing club easily before losing out to Uche.
Next up was a double boat of Charles Happel and Elliot Baird, competing for the first time, against a crew from Queens Park School Rowing Club but despite a strong performance, they missed out by a distance of "very close". The girls quad of Kate Richardson, Maddie Hall, Harriet Noyes, Ruby Brooker Collins and coxed by Imogen Hill came up against  a crew from Queens Park High School firstly winning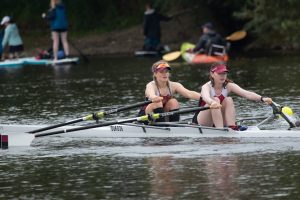 by one length before having to dig deeper in their final to beat City of Bristol in a very exciting race by three quarters of a length showing great determination and sculling precision to get over that winning line to win their very well deserved pots.
Charles Happel won his first singles race against Queens park High School by one and a half lengths and then against another competitor from Queens Park school by one foot and in so doing provided the comic moment. The race had been so close and tough he celebrated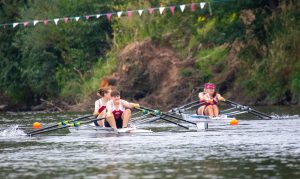 very enthusiastically raising one hand and in so doing struck a tree stump with one blade and very gently capsized  – comical for spectators but he had still won the race. He then raced an opponent from previous regattas, Woodfin of Evesham in the final but try as he might, missed out by one length, in his words, -"until the next time"!
The WJ15 double's crew of Maddie Hall and Harriet Noyes sculled extremely powerfully to beat a crew from Queens Park School by four lengths to set up a final with Grace Beason and Ruby Brooker Collins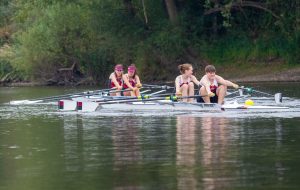 who had earlier beaten another Queens Park school by only a canvas after another exciting demonstration of sculling technique. The final was again competitive but was won by Maddie and Harriet having just that little more power on the day to win by four lengths. Said Steve Marsden, J15 Coach, "A great day, great performances by all to bring home those treasured "pots" – real china Ross Rowing Club mugs- for those winners."
The J16 squad were lucky enough to row both days at Ross Regatta. Starting on the Sunday in the Junior and Masters Sprint over 550m, Stratford had the J16 doubles of Tomi Wilcock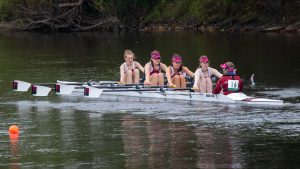 and Owen Perkins. They started the day against Evesham with a convincing lead to put them into the final. There they met fellow Stratford duo Will Beattie and Toby Sartain who had also had a comfortable win in the semi final, this time against Liverpool Victoria. It was the Wilcock and Perkins duo who were victorious in the closely contested final against their team mates.
Next up was the turn of the girls where Freya Watts, Ruby Howells and Harriet Holmes were joined by colleague Amelie Sartain, racing up in the WJ18 coxless quads. They also raced against Liverpool Victoria in the semi final beating them by an impressive margin of five lengths. In the final they faced a strong crew from Exeter, but managed to come away victorious with a fantastic performance.
The afternoon saw Beattie and Wilcock in the J16 singles. Wilcock was up first against a strong sculler from Royal Chester who proved to be just too quick for Wilcock beating him over the line. Beattie faced a home club Ross sculler. Despite the Ross sculler knowing the course, Beattie pushed ahead to take a verdict of three lengths. He then met the Royal Chester lad in the final and despite his best efforts lost by just 1 length in a fantastic race.
The WJ18 4+ was up next of Amelie Sartain, Watts, Howells and Holmes, this time joined by expert cox Toby Sartain. In one of the closest races of the day their straight final was a spectacle for the spectators. Toby Sartain steered an amazing course and this put them over the line just in front of their opposition with the verdict a canvas.
Monday's longer 750m course saw the J16 squad in action again. Tomi Wilcock joined up again with Owen Perkins in the J16 doubles event and faced two of the same crews from the day before. They raced Evesham first with an easy win and then faced Liverpool Victoria in the final. The Stratford duo won with a comfortable verdict of three lengths.
The afternoon saw the J16 singles of Owen Perkins and Toby Sartain. Both Stratford scullers were up against athletes from Evesham in the semi finals and both won booking their places in the final to face each other. On this occasion Perkins was victorious taking his third win of the weekend. The girls double of Freya Watts and Harriet Holmes had a good battle against Exeter, however this time it was Exeter who took the win by just 1 and half lengths.
Said Abi Terry, J16 Coach, "It was great to see all of the juniors racing and enjoying their rowing. The J16 squad are looking forward to starting their J17 year with a bang at our own regatta in a couple of week's time!"
For media coverage, see Stratford Herald online https://www.stratford-herald.com/sport/juniors-make-a-splash-at-regatta-9214157