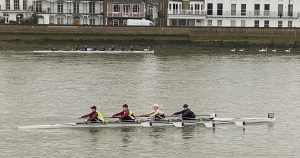 On Friday, Stratford upon Avon Boat Club's J17/18 squad travelled to London and the Schools' Head of the River to take on the revered Thames Tideway, the venue for the Oxford/Cambridge boat race.
The squad competed in the highly competitive Championship quads event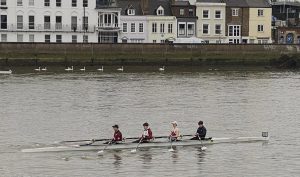 which hosted fifty one of the country's best junior boys' boats. On the unfamiliar and challenging course that stretches for nearly 7km through West London, the crew of Will Beattie, Tomi Wilcock, Charles Happel, and Toby Sartain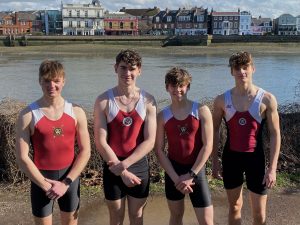 sculled with confidence and came home in a strong thirty nineth place ahead of eleven high level crews.
Also at the Schools' Head was King Edward VI School Boat Club with their unmatched string of victories including their recent success at the West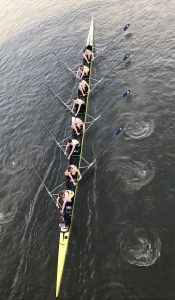 Midlands Championship and now they pulled off another decisive win on the Thames.
The Mixed Eight of Amalia Richardson, Maddie Hall, Tom Wheeler, Rafa Macdonald, Tom Beard, Ed Rose, Harriet Noyes, Kate Richardson and Imogen Hill set an impressive new course record of 19:30 minutes over the 6.8 kilometer Thames Championship Course. Setting off with a strong pace though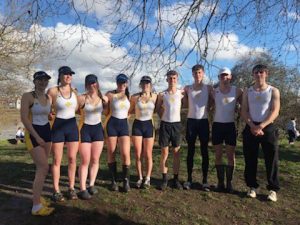 Chiswick Bridge at a rate of 32 strokes per minute and maintaining this all the way to Barnes Bridge, on the straight to Chiswick Eyot coxswain Imogen Hill took the perfect racing line as the K.E.S. crew picked up the pace. Hot on the heels of Westminster School and overtaking the hosts of the event passing under Hammersmith Bridge, K.E.S. continued to extend their lead past Fulham Football ground to the finish at Putney Bridge.
K.E.S. Captain of Boats, Ed Rose said, "We had it under control for the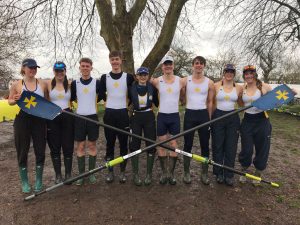 entire race and I have to agree with the commentator who broadcast – "It looks like good fun"! It feels great to have won this national event giving K.E.S grounds for optimism for the upcoming summer season. Our thanks go to Stratford upon Avon Boat Club for their support in getting us to this event!"
Also at the weekend, Stratford upon Avon Boat Club secured an impressive victory at the Vesta International Masters' Head of the River Race on Sunday in the Women's D eights category. The brand-new composite crew, which included members from seven European clubs,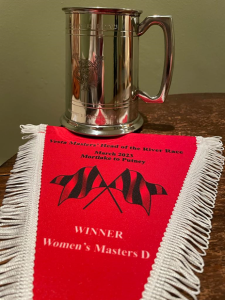 completed the Championship course in an impressive 20:02 minutes, and finished as the fourth fastest women's crew overall.
After the race, Suzie Radley, who represented Stratford, remarked that it was an honour to compete on this historic stretch of the Thames and to witness so many masters crews putting in their best effort. She also expressed her delight at her team's triumph, stating, "We were thrilled with our win."
For media coverage, see Stratford Herald page fifty two and Stratford Observer on line https://www.stratfordobserver.co.uk/sport/rowing-stratford-juniors-and-kes-excel-at-schools-head-of-the-river-in-london and back sports page https://www.stratfordobserver.co.uk/editions/view/?/Stratford/2023/03/24&pages=032