Last Saturday, members of Stratford upon Avon Boat Club entered Warwick regatta. Holly Sinnett and Becky Smith took part in the Primary Women's double sculls. They won their heats easily despite the heavy wind and bending river and then qualified for the final against Evesham. Again, Holly and Becky beat the Warwick crew with a good lead and were overall winners. The crew would like to thank Paul Hazelwood for coaching them through the last year and for the fantastic support and race training from Mark Dewdney and Helen Smith. The crew looks forward to training further with Mark and Helen and are aiming for novice head races over the winter.
Another success was Harvey Mole competing in his first regatta and despite a very close race, Harvey just lost out to the competition. Further wins included Amelie Sartain in the WJ13 1x after a hard fought race against Evesham.
The WJ13 4x+ of Abbey Meggeson, Emma Harrison, Harriet Hodgson, Sienna Rawlings coxed by Mary Walton were a close runner up in their event.
The J13 1x Conar Aitchison and WJ13 2x of Amelie Sartain and Abbey Meggeson narrowly missed places in their respective finals, however Sienna Rawlings and Harriet Hodgson gave Evesham a run for their win in the final of the WJ13 2x closing all the time to miss out by half a length.
Meanwhile at City of Oxford regatta held over 1000m on the River Thames also saw Stratford successes with Ian Ward who won in the adaptive assisted doubles beating two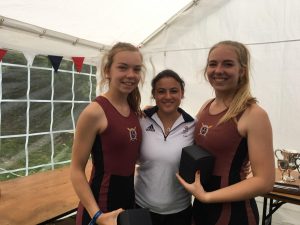 Oxford crews by two feet and one length respectively with Joe Moore assisting. Mark Sanders had a couple of close races. Stratford's J15 double won by two feet. 
Masters Women A, Sian Maher and Victoria Ward, joined by Seniors Lizzy Collins and Amy Freeman took part in their first race as a combination in the W.IM.2.4+. Kindly supported by Laura Roxburgh of Bristol Ariel, who sat in to cox, the crew drew City of Bristol in the heats and held them off all of the way to the finish line, showing their
individual skills, combined in to a good quality, very tidy crew.
The semi finals brought Stratford against a tall Reading Boat Club crew: Stratford kept up their show of skill but sadly Reading got to the line first on this occasion. This combination is one to watch for over the coming year.
Another first was the debut race for Emily Ascott accompanied in the IM3 Mixed double scull by Mike Hazelwood. The duo stole a march on their competition in first round pushing hard to a two length lead before finally being edged into second place by a
more experienced crew from Green Templeton College Boat Club.
Stratford Masters' Women were also ably represented by Christine Goodwin in the W.Mas.C.1x who drew a strong Vesta sculler. Christine beat her competitor off the start and proceeded to give the spectators the opportunity to see some great side by side racing over the whole course. Vesta just managed to get to the line first by a narrow margin and was heard to say that it was a tough race. Masters Women's Vice
Captain, Helen Smith said, "Christine continues to show her emerging skill and consistency, a great advert for masters' rowing."
Stratford's Junior Squad was represented in two events with fine examples of sculling in both. Sofia Ward competing in the J17 single scull raced a magnificent semi final leading off the start but was
eventually overhauled in the second half of the race by Swindon Rowing Club. The J15 double scull of Emily Browne and Katie Wellstead showed fine form recording easy wins over Falcon Rowing Club in the opening two rounds of the event taking them through to the final. The Stratford pair then took on Oxford City and delivered a masterful performance winning by just two feet much to the spectators' delight.  Another successful day of racing concluded with prizes presented by Zoe de Toledo, Oxford Blue and Olympic Silver Medallist.
For media coverage, see Stratford Observer online https://stratfordobserver.co.uk/sport/stratford-successes-at-warwick-and-oxford and Stratford Herald online http://www.stratford-herald.com/74779-stratford-rowers-impress-warwick-oxford-regattas.html