Bank Holiday Saturday saw the Masters D Crew from Stratford upon Avon Boat Club win the Masters Coxed Fours event at Evesham
Regatta. The crew of Stephen Haighton, Glyn Hawkins, Tim Lunel and Wallace Brown, coxed by Jennifer Cary, beat a home crew from Evesham in the final, recording a creditable time of three minute and forty seconds over the 1,000meter course. Although this was the first race for the new squad which also features Simon Skillings as 'fifth man', it proved excellent preparation for their attempt at the National Masters Championships in June.
Said Tom Doherty, "This was a great result. Well done to all. It's great to have winning crews across the Masters' squad!"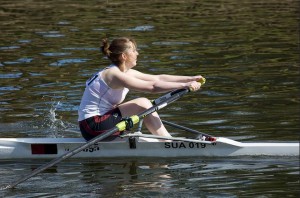 Not to be outdone by the Men's Squad, Gaby Walker won her Women's Novice 1x. Commented Helen Smith, Senior & Performance Women's Captain, "This was superb. A good day for Stratford all round!"
The Junior Squad had a J16 2x win and finalists with their WJ15 4+, WJ15 4x+, WJ14 4x+, J16 4x, J18 1x, J15 2x athletes and crews.
For media coverage, see Stratford Herald p18, online at http://bit.ly/1TvoJ7T and Stratford Observer online at http://bit.ly/1T4xWtC
For more great photographs, see David Phillips' selection at http://bit.ly/1WdtnhJ