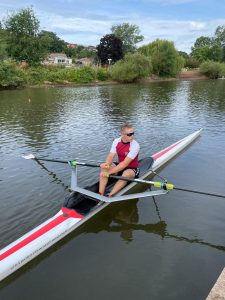 Jake Blatcher took on the mantle of representing Stratford upon Avon Boat Club at the weekend's Bewdley Regatta. As with the recent Llandaff Regatta, the Open Men's Singles proved to be the biggest event of the day. Unfortunately, Jake had an early exit against a strong sculler from Trent Rowing Club. Jake had some steering issues in the first half of the race but was coming back hard as he approached the finish. The line came perhaps twenty yards too soon with the Trent sculler a little over a canvas ahead.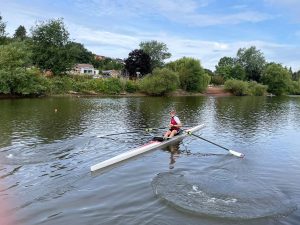 Mark Dewdney, Head Adaptive Coach and Jake's coach commented, "There were definite signs that we are overcoming one or two issues and I think he will get a win this summer!"
Jake's next outing will be at Maidenhead Regatta on 6th August where he will also be helping out with Stratford Boat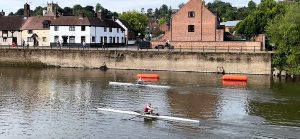 Club's adaptive squad who will be at Maidenhead in numbers.
For media coverage, please see Stratford Observer online https://www.stratfordobserver.co.uk/sport/rowing-success-just-around-the-corner-for-blatcher and Stratford Herald online https://www.stratford-herald.com/sport/success-is-on-the-horizon-for-blatcher-9265744 and page sixty one