Saturday saw the Bridgnorth/Stratford upon Avon composite eight continue their training and race programme in preparation for the International Vesta Masters event in London on 19th March with a trip to Runcorn in Cheshire to take on Northern opposition following their recent competitions in the Midlands.
The race was on the River Weaver over a 6km course the race promised a step up in competition levels. The race saw the finalisation of the crew for London with a welcome return of former crewmate Simon Beard from the Warwick Club. Lining up against Bridgnorth/Stratford in the event were high quality crews from Chester, Grosvenor, Agecroft, Warrington, Trafford and Pengwern competing in a range of age categories. Immediate competitors in the same age category for Bridgnorth/ Stratford upon Avon were quality crews from Grosvenor and Royal Chester Clubs.
Starting first of the three necessitated a fast getaway from the chasing crews and with Paul Wallis setting a solid stroke rate of 33 strokes per minute, the stage was set for a hard race with no quarter given. The first two kilometres were spent holding Grosvenor at bay and maintaining the starting gap between boats by keeping the power and rating high and controlled. Gradually as the crew settled into their race plan they began to ease out slowly increasing the gap from the pursuing crews over the midsection of the course.
Crew fitness, strength and endurance would now be key over the last two kilometres as Bridgnorth/Stratford continued to pull slowly away and increase the gap on Grosvenor who themselves now came under pressure from Royal Chester who put in a significant surge to close on both Grosvenor and Bridgnorth/Stratford crews.
However, Bridgnorth/Stratford were able to lift their boat speed and rating to 34 strokes per minute coming into the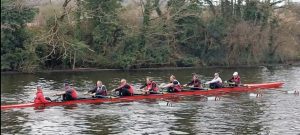 final one kilometre of the race to win in an excellent time of 21 minutes and 40 seconds with Royal Chester in second place in a time of 22 minutes 22 seconds with Grosvenor third in a time of 22 minutes 37 seconds. This winning time was also good enough to beat the eights crews from Warrington, Trafford and Pengwern racing in the younger age division event.
Said Tim Grimsdale, crew captain for the Bridgenorth/Stratford boat, "We came to Runcorn looking for an improved performance after good wins at Stourbridge and Worcester. We knew we would be up against tougher opposition and so to come away with a win against much fancied crews from Grosvenor and Chester gives us the improved performance for which we were looking. With an overall fourth fastest time of the day out of all competing crews in the morning and afternoon divisions, the crew could be pleased with their performance. With three wins in three races, the crew's focus now turns to the North of England Head in two weeks' time and their final preparatory race against tougher opposition."
For media coverage, see Stratford Herald online https://www.stratford-herald.com/sport/fourth-fastest-time-as-stratford-prepare-for-international-m-9301215 and page forty five and Stratford Observer online https://www.stratfordobserver.co.uk/sport/rowing-boat-clubs-composite-eight-win-on-the-weaver