Stratford upon Avon Boat Club Masters' squad built on their previous head season run of good form with a visit to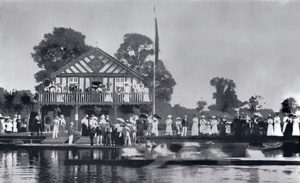 local club Gloucester on Sunday to take part in their spring head racing competition. Held on the Gloucester to Sharpness canal over five kilometres, the race was a chance to test the small boat skills and endurance of the Masters' squad under competitive racing conditions.
The event, held over two divisions, took place in very challenging weather conditions testing the skill levels of all competitors. With high winds, rain and a mixture of sun and heavy downpours, the course proved to be very challenging with rough water evident in large sections making for some very bumpy racing with many crews struggling to cope with the conditions.
First up for Stratford was Tim Lunel in Masters' D single sculls which is a very difficult boat to row in the choppy conditions. Tim, following on from an impressive showing at Northampton, completed the course in a very respectable time to win his event.
Next to brace the conditions for Stratford was the Women's Novice double sculls of Kjersti Woolley and Vicky Brennan. The duo, in only their first race together, were forced to race in the high IM2 category due to the race schedule which meant the crew were up against some very experienced competitors. Notwithstanding, Kjersti and Vicky refused to be daunted and battled their way down the course in a strong field to finish only a minute behind the winners, a tremendous achievement.
In the afternoon division in conditions worsening from the morning: Tim Lunel proved to be a glutton for punishment and, braving the elements once again, he raced this time in a Masters' D double scull with Tom Doherty. After a strong start in blustery choppy conditions, the double were able to overhaul their competitors and several other crews to win their event.
Said Vicky Brennan, Women's Vice Captain, "Although we only had a small entry, it was great to see all three crews performing well with two wins and a good showing in the third event. It was very pleasing to see the Women's section of the Club represented at this event and we look forward to a large representation at Abingdon head in the coming weeks."
See also Stratford Herald p16 and Stratford Observer online https://stratfordobserver.co.uk/sport/masters-rowers-maintain-their-momentum