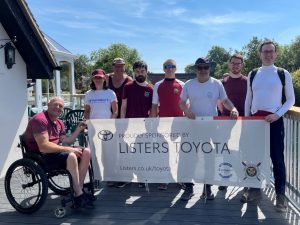 Stratford upon Avon Boat Club's adaptive squad took the long journey to Maidenhead to compete at their regatta on Saturday. Five clubs entered eight different events for the disabled. The other clubs won one each. Stratford won the other four; four of the five adaptive events they competed in.
Jake Blatcher also attended and raced in both his single and as well as a support rower with some of his adaptive colleagues. In Jake's first race, his opponent from Reading University took an early lead. However, Jake closed the gap consistently and his opponent, feeling the pressure, started to make mistakes and as Jake came alongside, the Reading man made a fatal mistake resulting in his capsize and defeat! Jake's second race was against a large sculler from Ardingly: this was an epic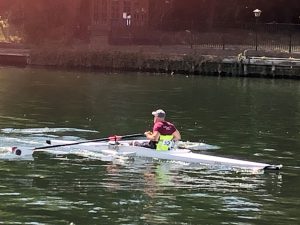 encounter that Jake lost by just a quarter of length!
First up from the adaptive squad was Andy Morris racing Watson from Oxford in his singles' final. The Oxford sculler was given a twenty second head start: Andy succeeded in clawing this back by halfway down the course eventually winning by a comfortable four lengths.
Rob Pedley then took on a sculler from Lagan (Belfast) in his final: this was Rob's first event. The competitor from Northern Ireland was also given a twenty second head start. It was only in the last one hundred metres that Rob poked his nose in front, winning by a few lengths as his opponent faded.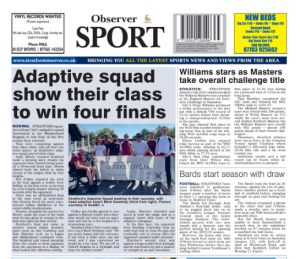 The next event turned out to be an all Stratford final as new boy Dan Browne took on the more experienced Gillian Middleton in Mixed Ability Doubles/Pairs. Dan was given a head start which he and his steerer, Joe Moore, never relinquished: this was Dan's first win after a few tries.
The final win for Stratford Boat Club came in another Mixed Ability Doubles/Pairs event. The final was between a Lagan and Maidenhead combined crew and Dan Godefroy and Jake Blatcher from Stratford. This was an exercise in better technique overcoming a lot of effort. Rowing smoothly down the whole course, the result looked inevitable well before the finish, Dan and Jake drawing applause from the crowd for what looked like effortless rowing.
Rob Pedley kindly agreed to race Akhurst from Marlow who otherwise would not have had an opponent: this was a tremendous race with the experience and technique of Marlow against the brawn of the Stratford man. As with the previous final, technique came out on top with Akhurst winning by a few lengths.
Commenting on the day, Stratford Boat Club's Head Adaptive Coach Mark Dewdney said, "We are pretty happy with the outcome. It has been a while since our last event and I was concerned we would be a bit rusty. We are off to Oxford Regatta in a fortnight and hope for similar results!"
For media coverage, please see Stratford Observer online https://www.stratfordobserver.co.uk/sport/rowing-stratfords-adaptive-squad-dominate-at-maidenhead and back sports page https://www.stratfordobserver.co.uk/editions/view/?/Stratford/2022/08/12&pages=024 and also Stratford Herald online https://www.stratford-herald.com/sport/adaptive-squad-show-their-class-9267932 and page forty five.