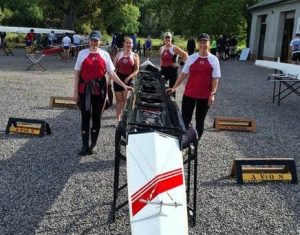 Stratford upon Avon Boat Club's Masters Women's crew of Rona, Clare, Paola and Ruth competed at the Avon Bluefriars' Small Boats Head near Bath at the weekend
Rowing the Long Course of 3250m, they all enjoyed the paddle upstream to the start on what is a beautiful stretch of the Avon. They completed the course with competent and efficient rowing and brilliant steering from Ruth at bow. No medals won but all were satisfied to have completed the course: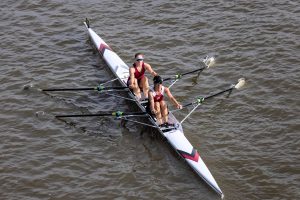 a very enjoyable race and useful practice for the remaining Head season. A great experience which is definitely recommended: very well organised, friendly, welcoming and a lovely course. Stratford will be back!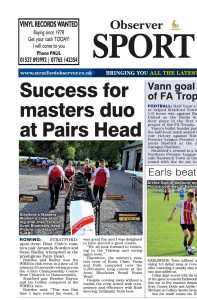 Meanwhile, in unimaginable glorious conditions, two Stratford masters' women's pairs rowed the 4.5km Championship Course from Chiswick to Hammersmith in the prestigious Pairs Head 2023. Heather Hayton and Liz Collins raced in the WMB2x and had a fabulous race, thoroughly enjoying the occasion.
Amanda Bowden and Suzie Radley won the WMD2x Club event in a time of 16.26mins. Amanda commented, "This was first time I have rowed the event, it was great fun and I was delighted to have steered a good course. We all look forward to returning to the Tideway racing again soon!"
For media coverage, see Stratford Herald page sixty one and Stratford Observer online https://stratfordobserver.co.uk/sport/rowing-boat-club-masters-duo-triumph-at-prestigious-pairs-head and back sports page https://stratfordobserver.co.uk/editions/view/?/Stratford/2023/10/13&pages=32