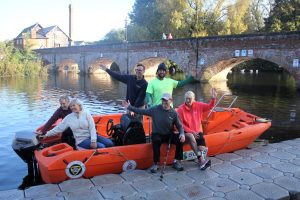 Stratford upon Avon Boat Club's adaptive section is back on the water thanks to Salts Healthcare! Recently, Stratford's disabled athletes couldn't get out on the river because the engine on their specialised rescue safety launch Juno had irrevocably broken down after seventeen years' service and funding for new one was urgently needed. Having the adaptive squad off the water was a major blow not only for Stratford Boat but also for the athletes' wellbeing and exercise
Salts Healthcare is one of the UK's oldest family-run companies that has grown to become a highly successful international medical device manufacturer. Today, the Salts Healthcare family of companies is more diverse than ever but their dedication to designing life-changing products remains the same.
Operating from headquarters in Birmingham, Salts is split into two divisions: Salts Stoma Care which designs and manufactures stoma care devices and additional products and Medilink, a national network of nineteen Dispensing Care Centres that supply and dispense stoma care and continence products by all manufacturers. Salts Healthcare invests heavily in research and development and works with healthcare professionals and educational facilities to improve and innovate, designing products that truly change lives.
Said Paul Stanton, Stratford upon Avon Boat Club's President, "Salts Healthcare is a natural 'fit' with Stratford's adaptives as we share common beliefs and goals: both organisations care, listen and innovate to improve lives, working to find better solutions, seize opportunities and overcome barriers"
Commenting further, Caroline Salt, Salts Healthcare said, "The link between Salts Healthcare and Stratford Boat Club is a long established one with many members of the Salt family having rowed with the Club and Philip Salt, the former CEO of Salts Healthcare, having been Captain of Boats at the Club: we know that the link is a strong one and will continue into the future"
The need for a new engine for the adaptive safety launch was highlighted by Stratford Herald who came to the assistance of Stratford Boat Club by publicising the plight of the adaptive section being off the water and this was picked up by Caroline Salt. Andy Veale, Editor of Stratford Herald said, "The Stratford Herald, like Stratford Boat Club, is at the heart of the community in Stratford and surrounding area and we were delighted to be of help and bring the two organisations together"
Getting the adaptive launch back onto the river was also helped by the speedy operation of Stratford Boat Club's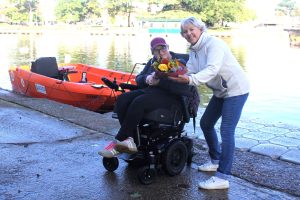 neighbours, Avon Boating, who ordered the engine and fitted it free in record time. Mark Dewdney, Head Adaptive Coach at Stratford Boat Club said, "Having Juno back on the water has meant a lot to our adaptive athletes in terms of their recreation and subsequent wellbeing: we are so grateful to Salts Healthcare for sponsoring the new engine. Stratford Boat Club has several ambitious projects in hand to enable us to offer rowing to a wider audience of disabled athletes to coincide with our celebration of one hundred and fifty years anniversary next year in 2024!"
For media coverage, please see British Rowing online news https://www.britishrowing.org/2023/09/salts-healthcare-gets-stratford-adaptive-rowers-back-on-the-water and Stratford Herald page thirty five
---