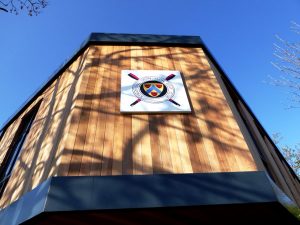 Stratford upon Avon Boat Club Masters' squad headed to London on Sunday for the penultimate race of their head calendar, the Vesta Veterans International Eights Head of the River Race on the famous Thames Tideway.
The event, held on a flood tide over the same course the week before the famous Oxford Cambridge University boat race, attracted a full field of two hundred and thirty crews of national and international competitors from as far afield as the United States making for a spectacular sight on a sunny if blustery day.
The event had been in doubt due to heavy winds and tides which resulted in the Head of The River Race for seniors being cancelled the day before and also the disruption to the schools Head event earlier in the week. The organisers Vesta Rowing Club with fingers crossed were provided with blustery but rowable conditions which although resulting in a shortened course of four kilometres meant racing could commence on time and to plan.
Stratford's Masters, racing in their composite eight with Bridgnorth Rowing Club, were up against a strong field many of whom they had raced the previous week at the North of England Head and narrowly beat Grosvenor, York and Agecroft, all of whom were out for revenge.
Starting in sixty seventh place behind two Grosvenor crews, the Stratford rowers Simon Beard, Tim Lunel, Richard Nelson, Tom Doherty, and cox Becky Stokes joined by Bridgnorth colleagues Paul Wallace, Stuart Round, Rob Graham and Alan Champion in their Masters D age category event, powered off the start at a lively thirty four strokes per minute. It was not long before their high tempo closed down one of the Grosvenor crews who made it very difficult for Stratford/Bridgnorth to pass forcing the crew out of the stream on the wide bend at Chiswick. Finally after a number of strong pushes, the crew was clear and able to pull away but lost a significant amount of time in the process. This allowed a very strong Marlow crew, themselves being followed closely by a powerful Dutch crew, to close and challenge for the place.
The Stratford/Bridgnorth crew, ably stroked by Paul Wallace, was not going to give their position up without a fight and maintained a strong rhythm at over thirty four strokes per minute up to and past Barnes Bridge putting clear water between them and Marlow in tricky conditions. A final push saw them maintain their advantage to beat Marlow in under three seconds in the final moments.
The crew, despite the tricky conditions, were able to finish in thirty fifth place overall out of two hundred and thirty one entries, and ninth of eighteen crews in their D event in a time of fourteen minutes and twenty eight seconds claiming many high quality scalps including, Lea, Molesey, Thames, Worcester, Reading, Thames Tradesmen and Marlow clubs.
Said Simon Beard, "This was a solid row in very difficult conditions against very high quality opposition and we can all be very pleased to finish in the top fifteen percent of entries and with our overall performance."
See also Stratford Observer p38 and online at https://stratfordobserver.co.uk/…/london-scalps-for-stratf…/