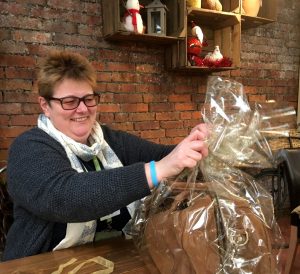 Stratford Boat Club said goodbye to Jo Wyles who has been an active club member for a number of years.
Until the end of last season, Jo was the Club's Club Honorary Secretary, a post she covered as a volunteer for over six years and Jo has also acted as Launch Driver, plus Regatta Secretary and other voluntary positions in recent times. One of the main tasks that Jo will be remembered for is most ably supervising of the setting-up of the Club's marquees for the regatta season and Jo was seen each year with her partner Tony manning the Race Control station and radio allocations at the Club's own regatta events.
Said Paul Stanton, Club President, "Jo and Tony are relocating to their
'home region' of Kent and we will certainly miss them both, as well as the enthusiastic and willing support they have given our club over the years. Volunteering is the heart of Stratford upon Avon Boat Club and Jo and Tony have certainly exemplified this ethos."
Jo was presented with a leaving gift and token of the Club's appreciation – at ravel bag with a specially engraved "Bon Voyage Jo Wyles – from your friends at SuABC"
Farewell Jo and Tony – enjoy being beside the sea and start of a new chapter in Whitstable in Kent!
For media coverage, please see StratfordObserver online https://stratfordobserver.co.uk/sport/boxing-day-fun-on-the-water