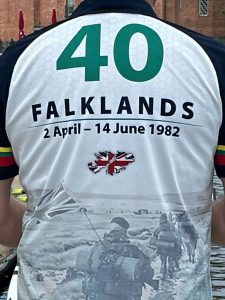 Stratford upon Avon Boat Club's Masters' coxed four (aka 'The Dads' Four') supported their crew member former Marine Graham Cann and Falklands Veteran in a commemorative row to mark the 40th anniversary of the Falklands War.
Dave Edwards, Richard, Eric and cox Pippa (ex Army AGC-ETS) rowed with Graham to support The Royal Marines (RM) Charity – Falklands 40 campaign during this last weekend. Hundreds of Royal Marine supporters, serving and Royal Marine veterans ran walked or cycled (or rowed) 5.6 miles (9.2km) between 10-14th June 2022. The 5.6 miles represents the 56mile yomp (march) that 45 Commando Royal Marines did during the Falklands war to then go into combat at Two Sisters in the Falklands.
Meanwhile, Stratford Boat Club's Adaptive Squad competed in Ireland and took part in the inaugural Mixed Ability International Regatta in Cork. "Mixed Ability" sport allows able-bodied and disabled athletes to compete together. Stratford were joined by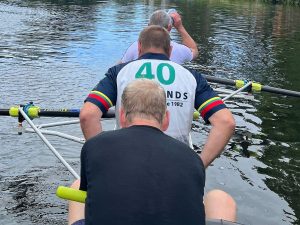 teams from Turin (Italy) and Bradford in this new event. Head Adaptive Coach Mark Dewdney said, "We had a great time which was the main purpose. We made lots of new friends These events are the way to go. We are experimenting with an integrated approach at the club and this kind of event, the first of its kind, justifies that initiative."
The event attracted the attention of various sporting bodies. Representatives from British Rowing and the CEO of Rowing Ireland were in attendance. All went away with a positive impression." The Stratford Adaptive Squad consisted of Paola and Ian Ward, Dan Godefroy, Gillian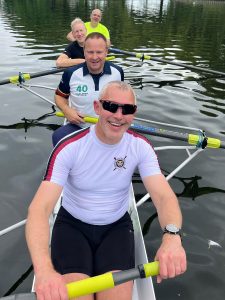 Middleton, Rob Pedley, Neville Hand, Paul Harrold and Mark Dewdney. Unfortunately, three others were unable to come due to illness and Covid.
Also on the water this weekend were rowers from Stratford upon Avon Boat Club's Masters who headed to Nottingham for the British Rowing Masters Championships taking place at the national water sports centre at Holme Pierrepoint. Held over a six lane 1000m metre course, this is the premier Masters' rowing competition of the season and attracts the top crews from all parts of the British Isles.
With the weather set fair but windy, the weekend promised some exciting and challenging racing with Holme Pierrepoint promising to live up to its reputation for choppy and blustery conditions. Saturday proved to be the case with a very strong
head wind providing choppy conditions and large waves which resulted in several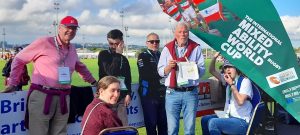 crews capsizing and delays and difficulties in getting crews onto the tethered start boats for the beginning of events. This proved particularly difficult for those rowing in smaller singles and doubles.
Saturday morning saw Stratford's first event with Heather Hayton and Tom Doherty forming part of a mixed Masters' quadruple sculls crew with Tabatha and Julian Scrivener from Upton Rowing Club to compete in the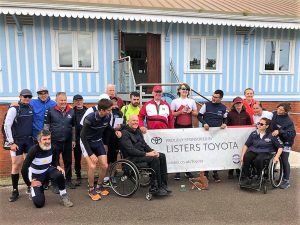 championship quadruple sculls event. The crew which has had a successful season was looking to make amends for narrowly missing out on the National Winter Fours Head competition and started smoothly in rough conditions. They were able to settle into a good rhythm setting a comfortable 34 strokes per minute race pace. With technique being at a premium to cope with what were by now waves on the course the crew were able to pull away from their rival crews from Portora rowing club in Northern Ireland and came home to win Stratford's first National Championship Gold medal.
Said Tom Doherty afterwards" This was very pleasing to see Heather win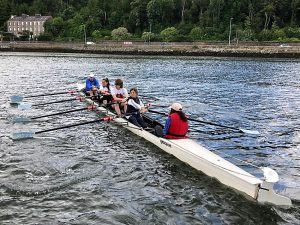 her first national championship given the immense commitment she has put in since taking up the sport with all the very early morning winter training sessions in the dark and cold paying off, and to do it with our friends from Upton was particularly satisfying".
Saturday's racing was not over for Stratford with Kjersti Woolley and Gary Clay competing in the championship mixed double sculls. With conditions getting more severe and in a small double it was going to be very challenging for all the crews in the event and this provide to be the case. With the national champions from Bewl Bridge Rowing Club in the same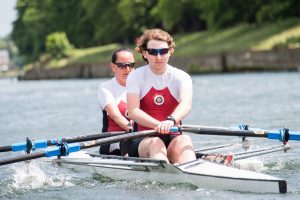 race it was always going to be tough and despite a hard-fought race unfortunately they just missed out in qualifying for the final by less than a second.
Sunday saw Stratford back on the course with conditions slightly less blustery but with a cross wind which favoured crews in lanes five and six. First off for Stratford was Heather Hayton and Tom Doherty, this time in their mixed double scull. Difficulties persisted in getting crews onto the start boats with the cross wind blowing boats around. Eventually with crews reasonably straight the race commenced with a full field of six boats from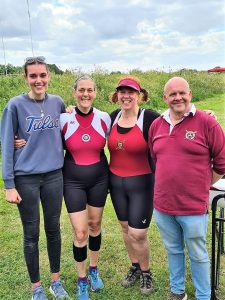 Bewl Bridge [2 crews], Hereford, Molesey and Maidstone Invicta.
After a very good start Stratford lead out to the 500m halfway mark with about two lengths separating all six crews. In the second half of the race Hereford, Molesey and Stratford began to pull away from the other crews. Stratford in lane one was at a disadvantage with the cross wind requiring continual steering corrections but they still managed to pull into second position towards the last 250 metres with the fight on with Molesey for the Gold. With Molesey having the wind advantage of lane six, they were able to pull ahead to win by a length of clear water with Stratford in second place. Said Heather Hayton, "We had a great start and were able to keep a relaxed rhythm in the swell and chop and keep the boat running and are extremely pleased to have given Molesey one of the top crews in the country a very close race."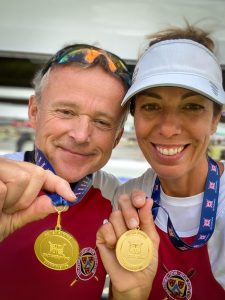 Later in the day saw a much anticipated first appearance at a national championship for Stratford's Gina Fusco and Christine Goodwin in their women's double sculls event. The ladies whose rowing journey has developed over the last year came into the event with no expectations and were looking only for a competent performance in an event with six competitors from as far afield as Exeter, Sudbury, Ardingly, Twickenham, York, and Kingston. With conditions not improved it was going to take good technique to mange to choppy cross wind and after the usual starting hiccups, the race settled into a close fought battle between Ardingly and Stratford with the other crews nowhere to be seen. Stratford's extra power and much better technique saw them put a much more experienced Ardingly crew under pressure for the whole of the race. Coming into the last 250metres and cheered on by Stratford supporters, there was only about a length between the crews with Ardingly just managing to hang on for the win leaving Stratford in a hugely creditable second place. Commenting, Christine Goodwin said afterwards, "We came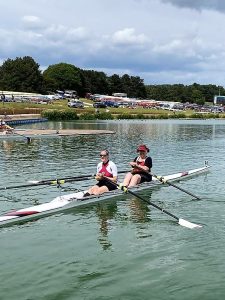 here with no expectations and to put in a very good performance in tough conditions was so pleasing and testament to our commitment over the season. A huge thanks to Colin, Danni and Rob for all their coaching, help and support. This will spur us on to return next year."
More proud moments for Stratford Boat Club recently include one of its alumna rowers winning gold! Former Stratford upon Avon Boat Club member and King Edward VI School Boat Club rower Esme Booth kicked off the 2022 international rowing regatta season at the World Rowing Cup 1 event held on Lake Sava in Belgrade, Serbia winning gold in the final of the Women's Pair (W2-) event.
Esme, rowing at stroke with her partner Emily Ford at bow are both Leander Club rowers and members of the current Great Britain Women's Senior squad. They had only a relatively short period in which to prepare for the event, with this being their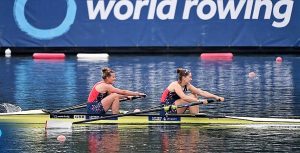 first race together. The World Rowing Cup 1 event was the first in a series of three international rowing regattas held over the summer months, which attract the top elite rowers and para-rowers from around the world.
Recent racing saw Esme and Emily rowing in the first of two heats: the winners from each heat progress straight through to the A final whilst the remaining crews would race in two additional repechage races to establish the crews for the A and B finals.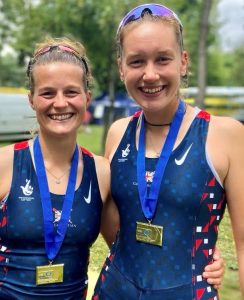 Racing in lane one in their heat, Esme and Emily quickly established a slight lead over the Czech, Dutch and Croatian pairs. They continued to increase their lead throughout the race, finishing the 2000 metre course nine seconds ahead of the Croatian pair with the Czech pair in third place. As heat winners and the fastest pair over the two heats, this gave the British pair a middle lane draw in the A final, to be held on the next day.
The A final saw the British up against pairs from Croatia, Chile and three from the Netherlands. As the race got underway, it was the pair from Chile that took an early lead with the British pair back in third place. However, by the 1000 metre mark, the British pair had turned the slight deficit into a 1.5 second lead. They managed to extend their lead, controlling the race to finish in the gold medal position in the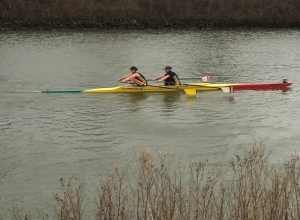 time of seven minutes and four seconds, 2.5 seconds ahead of the second placed pair from Chile with the Dutch pair placed in third place. It was a very successful weekend for the GB squad, topping the medal table with a total of fourteen medals with eight gold, two silver and four bronze.
Stratford upon Avon Boat Club looks forward to another action packed weekend with their Stratford Self Store Boat Club Regatta this Saturday 18 September with racing from 08.30 through 17.30hrs
See also Stratford Herald page fifty three and Stratford Observer online https://www.stratfordobserver.co.uk/sport/rowing-stratford-upon-avon-boat-clubs-masters-commemorate-40th-anniversary-of-falklands-war