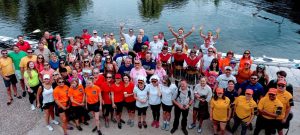 Although the wait of a year seemed a long time, all the expectations of the Fun Regatta were met and even bettered! The Fun Regatta attracted competitors from local companies, villages and groups of friends and twenty four crews with just three hours' training produced some quality rowing,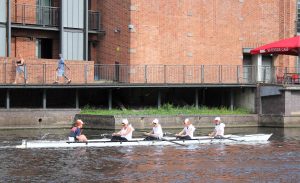 ably coxed by skilled members of Stratford Boat Club's junior squad and watched by crowds and friends from the Club's grounds, the Bancroft Gardens and the Rec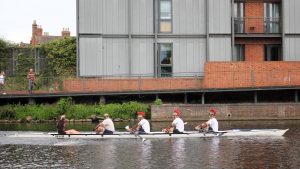 Fun Regatta organiser Chris Belcher said, "We were heartened by the huge numbers who came to watch, cheer the competitors on and enjoy the spectacle even though the weather wasn't ideal: it may not have been Henley Royal Regatta but we like to think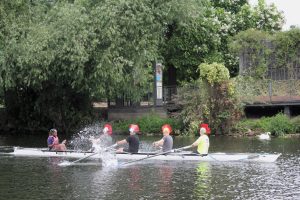 that it was more fun to watch!"
Fancy dress was again a major part of the day, with crews dressed as Roman legionnaires; colourful Hawaiian shirts; the now immediately recognisable blue and yellow of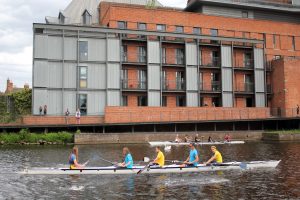 Ukraine who were made very welcome by the watching crowds; ladies from Wilmcote dressed as swans; colourful hippies; crews with Mohican hairstyles; pink flamingos on their heads; others mascaraing as King Charles 111 (is this a treasonable offence? Off to the Tower with you!); ladies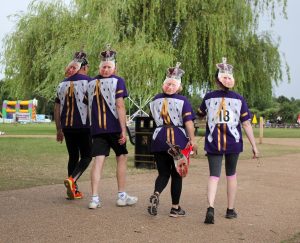 from Stratford's Warwick Events; ladies looking suspiciously like Super Woman and many other colourful creations! Many crabs were caught and there was a lot of splashing but nobody capsized with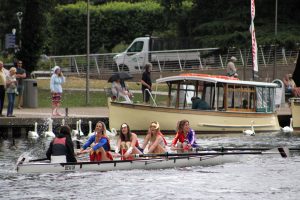 the rescue launch staying on her mooring throughout the day! The eventual winners were Meander Club again Never Mind The Rollocks as runners up. Oarsome 4 Some took the fancy dress prize!
Commenting further, Chris Belcher Fun Regatta organiser added, "Through the hard work and all the efforts of Club members, we have been able to raise funds for replacing equipment, repairs and maintenance. As always, we are especially grateful for the tolerance of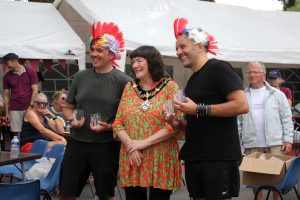 those who make their living on the river and to our sponsor Crowne Plaza Stratford."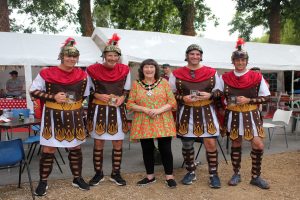 Dawson Curnock, Boat Club Chairman also commented, "The wait was worth it! A fun day was had by all and Stratford Boat Club was happy to contribute to the vitality and atmosphere of the town and give visitors and residents a cause for celebration!"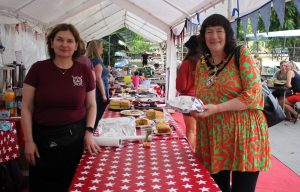 Paul Stanton, the Club's President said, "We were so grateful that Stratford upon Avon's Mayor Cllr Kate Rolfe and her Consort visited us and presented prizes to the winners: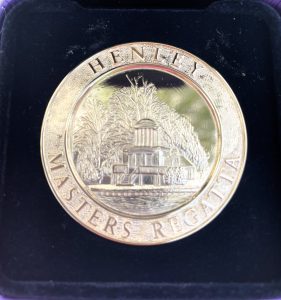 Stratford upon Avon Town Council's support is essential for the encouragement for sport and recreation in the Warwickshire area and community. Thanks also to Sip 'n' Swig, Stratford Boat Club's regatta bar contractors, for filling the winners' tankards with beer: that made their day!"
Whilst the Club members were running the Fun Regatta, the Club's masters'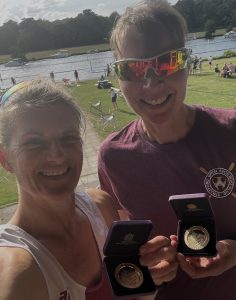 squad were competing in a fantastic two days of racing at Henley Masters Regatta with another win for the masters women from Stratford upon Avon Boat Club.
Suzie Radley and Amanda Bowden joined forces with other clubs to form two composite eights: the racing consisted of heats, a semi and the finals. The fast starts
and lengthy powerful rowing strokes were too strong for the opponents, resulting in two winning eights, beating a crew from USA and Marlow Rowing Club, respectively.
Further down the country, Llandaff near Cardiff was the venue for the latest regatta outing for Stratford upon Avon Boat Club's adaptive squad. The experienced team from Stratford helped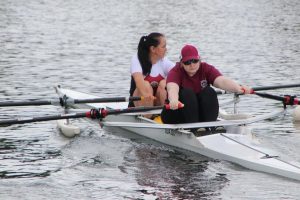 the local organisers to provide a fun and safe event. Stratford also loaned boats to Runcorn and Fishguard on the day so that all could compete. Honours were pretty much shared between the five adaptive clubs that attended: Stratford came away with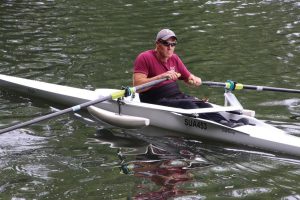 most wins.
Andy Morris in the Open PR3 Singles beat his rival from Runcorn by little more than a length. He then teamed up with his young colleague Isaac Clarkson to take the Band 2 Doubles event: this was thirteen year old Isaac's first pot. To complete his day, Andy then partnered the Runcorn sculler in Band 1 Doubles event against a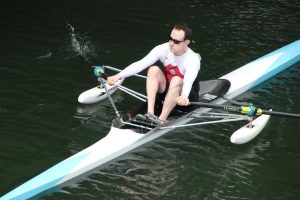 Stratford/Ross double, winning by three lengths.
Jess Dowdewell continued the close rivalry with Rob Pedley in the PR1 Singles: another epic battle in the final saw Jess overcome Rob for the first time by just under a length. Commenting, Head Adaptive Coach Mark Dewdney said, "The best bit about the day was seeing new faces on the circuit: we have some new friends who all interested in taking adaptive and para rowing forward."
Stratford's junior squads were back on the water on Sunday after coxing at the Fun Regatta, putting in more training for the British Rowing's Junior Championships at Strathclyde this coming weekend. Steve Wellstead, Junior Co-ordinator commented, "The junior squad will be heavily represented with crews from J14, J15, J16 and J17/18 categories all there for their chance for glory against some of the best schools and clubs in the country: we wish them luck! The logistics of getting multiple boats, trailers, coaches, athletes, coaches and supporters to Strathclyde is immense and I'd like to thank all who have given their support, time and effort to make this complex exercise possible!"
Further afield in Lucerne, Stratford Boat Club's alumnae of Camilla Hadland and Esme Booth were both performing at the Rowing World Cup III this weekend. Camilla was doing an excellent job in the commentary box and Esme rowing in the GB Women's Eight collecting an excellent gold medal!
For media coverage, please see Stratford Herald middle pages, British Rowing online https://www.britishrowing.org/2023/07/all-good-fun-at-stratfords-fun-regatta and Stratford Observer online https://www.stratfordobserver.co.uk/sport/rowing-boat-club-hosts-successful-fun-regatta