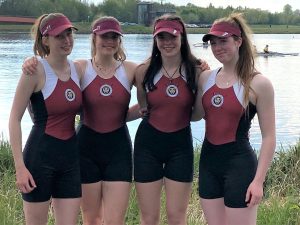 Stratford upon Avon Boat Club's J16 squad faced a busy weekend: after a light outing and more boat loading, the J16 squad set off at the crack of dawn for Dorney Lake and The Junior Sculling Regatta. With crews from clubs and schools all over the UK and even the South African Schools Rowing Union, top competition was assured. Charles Happel sculled brilliantly over the 1900 meter time trial to finish seventh out of thirteen scullers in his event, missing out on a place in the A final by just 1.5 seconds, a splendid come back from his misfortune at Evesham. Charlotte Isbell and Grace Beason again in their double acquitted themselves well gaining a lot from the experience of competing at a high level event. Amalia Richardson,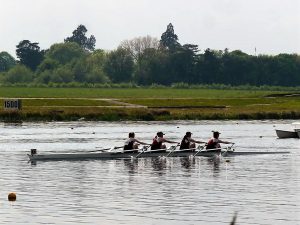 Harriet Noyes, Maddie Hall and Kate Richardson competing again in their quadruple scull faced twenty one other crews in the time trial finishing seventh, just 0.3 seconds behind Maidenhead.
Also qualifying for the B final just 0.3 sec behind Stratford and starting in the next lane were Tideway Scullers. Stratford made a sensational start leading the field by a quarter of a length after seven strokes. Tideway edged back after 500 meters and took a one length lead by 1400 meters with South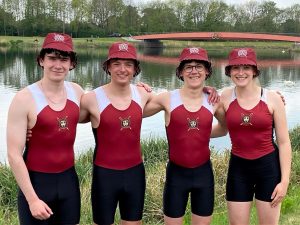 Africa closing the gap: Amalia made the call to up the pressure and go for home. South Africa couldn't answer and with a high rate burst for the last ten strokes, Stratford secured second place by just three quarters of a length to Tideway Scullers. Said Sam Hill, J16 Coach, "The J16's showed great skill and determination this weekend proving they have what it takes to compete with the best!"
In addition, some of the J17 performance squad travelled to Dorney Lake to compete in small boats also at the National Junior Sculling Regatta. This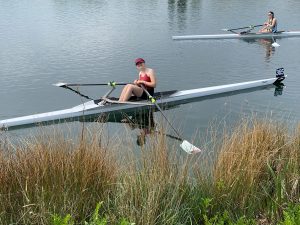 was their first opportunity this season to compete in small boats and each learned a lot and put in some really good performances. First up were the J17 double scull of Tomi Wilcock and Will Beattie. They were up against some strong opposition from some of the top rowing clubs from around the country. They managed to come in seventh place, less than three seconds from the A Final.
Next to go was Toby Sartain in the J17 single sculls. Toby sculled a good race and finished up in thirteenth place with a solid technical performance. Lastly from the J17 squad was Freya Watts in the WJ17 single sculls. Freya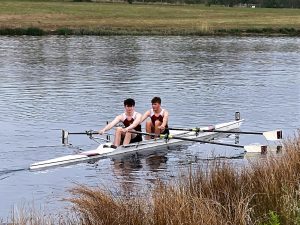 had never raced in a single at a national competition before and this was a good challenge for her. Finishing in a solid ninth place with just thirty five seconds separating her from first place. Commenting, Abi Terry, J17/18 Performance Squad Coach said, "This was a great event to give the squad a real test against some top opposition. Next up is National Schools Regatta at the end of May!"
Also rowing at Dorney Lake in the Ball Cup was Stratford's sister club, King
Edward The Sixth School Boat Club, this time in the Ball Cup, a competition which KES founded. KES won gold in the quad and a silver in the coxed four events.
For media coverage, please see Stratford Herald online https://www.stratford-herald.com/sport/j16-squad-show-they-can-compete-with-the-best-9253801 and page fifty three. See also Stratford Observer online https://www.stratfordobserver.co.uk/sport/rowing-stratford-upon-avon-boat-clubs-junior-squad-enjoy-junior-sculling-regatta-challenge and back sports page https://www.stratfordobserver.co.uk/editions/view/?/Stratford/2022/05/13&pages=024