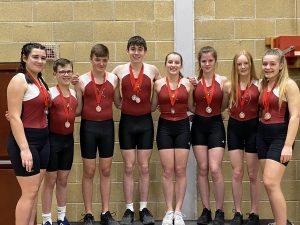 On Sunday, Stratford upon Avon Boat Club junior squad and their parents braved Storm Ciara to attend the annual South of England Indoor Rowing Championships in Abingdon run by Hinksey Sculling School.
The championship started with the individual events with the J15 girls five minutes category first. Ruby Howells went out hard and led her group closely followed by Fleur Griffiths and Freya Watts. At the other end of the sports hall, Bella Chappelhow also started out well and led her group by a considerable margin. The battle between Howells and Griffiths continued and they finished with exactly the same distance gaining themselves the silver medals. Chappelhow finished just one metre behind them to take the bronze, with Watts finishing in a very respectable seventh place.
Next up was the J15 boys' five minutes race. Tomi Wilcock, Will Beattie and Toby Sartain all competed in this with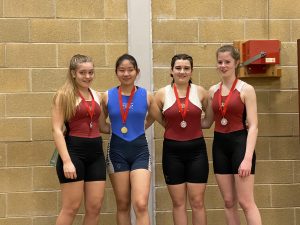 another close battle for the top with Wilcock and an athlete from Hinksey Sculling School. Wilcock took the silver nine metres behind gold with Beattie in sixth and Sartain in twelfth place.
Will Clarke was the only J16 taking part and he raced over the full 2000m. He went out hard but having been suffering with a bad virus found he couldn't sustain the fast pace he had set. Despite this, Clarke finished in a very good eighth place.
The day culminated with the relays. Both the open and girls' J15 relays took place at the same time competing over 3000m. The open team of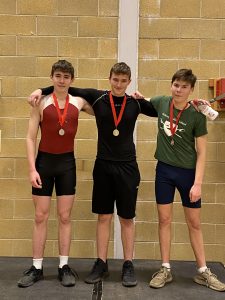 Wilcock, Beattie, Sartain and Lucy Browne put in a good performance in a battle with The Langley Academy and Falcon Boat Club. The Stratford Boat Club quartet finished in a brilliant third place to secure the bronze medal.
The girls' team of Howells, Chappelhow, Griffiths and Watts faced another closely fought race with Hinksey Sculling School. The Stratford Boat Club girls did what was needed and despite the race coming down to the final 250m, they won the title for the second consecutive year picking up the gold medals.
Said J15 coach Abi Terry, "A brilliant result for the J15 squad all coming back to Stratford with at least one medal each!"
For media coverage, see Stratford Herald page fifteen and online https://www.stratford-herald.com/105985-stratford-storm-medal-success-south-england-champs.html and Stratford Observer online https://stratfordobserver.co.uk/sport/stratford-rowers-create-a-storm-indoors