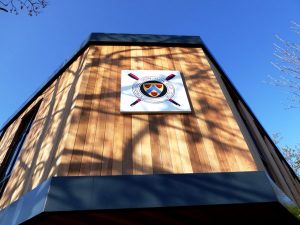 While most of Stratford upon Avon Boat Club Senior crews were at Gloucester, Stratford's Masters' squad had a successful outing at the Trent Head in Nottingham.
The day got off to good start with Tim Lunel winning the Masters D category in strong headwinds in the first division despite a "tactical" Nottingham Union sculler refusing to give the racing line to the faster crew meaning that Stratford rowers had to take a long way round the outside of the windiest bend on the course. All good for building experience!
This was followed a much better technical row in the double with Chris Straw and Tim Lunel coming second to a really good Holingworth Lake crew (National Champions earlier in the year!). Stratford were a full minute ahead of the other Masters D crew from Nottingham Union and the Masters B/C crew from Newark giving Stratford plenty to build on for the future.
Said Tim Lunel, "All round, a good day of "big river rowing" in challenging headwind conditions."
For media coverage, please see Stratford Herald p16 and Stratford Observer p30.