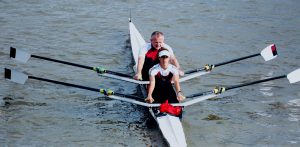 Sunday saw the annual running of the national Pairs Head of the River Race in London.
The event, organised by Barnes Bridge Ladies' Rowing Club, brings together the best two person double sculls (two blades each) and pairs (single blade each) crews from all over the country for a spectacular time trial event on the River Thames with over four hundred and sixty entries racing over the majority of the Boat Race Course, a distance of 4.5km.
Stratford upon Avon Boat Club was represented in the Mixed Masters D Double Sculls category (average crew group
age 50 to 55) by Heather Hayton and Tom Doherty.
On a day that forecast heavy rain and bad weather, the competitors were pleasantly surprised to be greeted by sunshine and a moderate wind to provide unusually reasonable calm conditions, most unlike a normal Tideway events.
Starting in the one hundred and ninety fifth position gave Stratford a chance to watch the race spectacle unfold with some of the country's top national rowers competing for honours and leading off the field.
Stratford Boat Club, up against a good Ardingly crew and surrounded by other boats containing ex- internationals, were in for a tough race but made a good start and, although in a heavy boat, held off some quality crews from Bewel Bridge and Upton for the majority of the course.
Stratford were able to close on Bristol, their direct competitors, and a close battle ensured for the majority of the course with less than a length separating both crews for the last two kilometres. With Hammersmith Bridge fast approaching and the finish in sight, a final push saw Stratford just pip Bristol over the finish line to complete the event in fifteen minutes and fifty one seconds to beating Bristol overall by nineteen seconds. Unfortunately this was not enough to win their category with Ardingly finishing twenty three seconds ahead which saw Stratford settle for second place.
As with most major Thames races, a degree of steering was required to avoid both slower crews and charging faster boats leading to some very close encounters. With conditions being reasonably favourable, all crews were set on fast times and aiming to take advantage of the stream, leading to close side by side racing for much of the course.
Said Tom Doherty, Masters' Vice Captain, "This was Heather's first visit to a major Tideway event and only her third ever head race: it was great to see her put in a big performance against some very good opposition!"
For media coverage, see Stratford Herald online http://www.stratford-herald.com/102714-stratford-masters-double-impress-pairs-head-race.html and page fifteen and also Stratford Observer https://stratfordobserver.co.uk/sport/stratford-masters-double-impresses-at-pairs-head