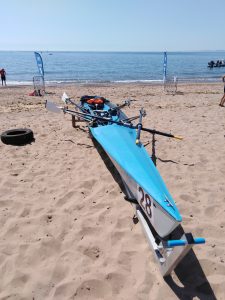 Whilst Stratford upon Avon Rowing Club's junior sections headed to their own British Rowing Junior Championships at Nottingham Holme Pierrepont over the weekend, Stratford rowers Heather Hayton and Tom Doherty headed for more exotic climes on the South Coast at Exmouth for the British Rowing Offshore Championships.
The annual British Rowing Offshore Championships attracted crews from as far afield as Runcorn, Pembrokeshire, and Jersey to this rowing fiesta on the beach. The event which usually attracts a large international field but this year the championships were unfortunately limited to British crews due to Covid restrictions.
The competition consisting of a number of differing boat and gender category events with boats all launched off the beach, with the boats stern on to the beach, requiring some athleticism to get into the boat, with the length of a four person boats meaning the bow rower is up to waist deep in the swells having to climb into the boat to start the race. This resulted in some entertaining race starts!
With all races over a 6km buoyed course, the event is classed by British Rowing as something of a contact sport with all competitors heading for the nearest buoy turn and little quarter given. However generally crews were on their best behaviour with no major incidents as they made the most of some very flat water conditions which suited the majority of competitors who were also fine boat or flat water rowers.
Stratford Boat Club rowers Heather Hayton and Tom Doherty competing in the mixed double sculls final were up against some tough competition in a non age restricted event, the Stratford crew with an average age of fifty three were competing against a number of crews of average age were twenty to thirty years younger!
The event also featured the 2019 National Masters fine boat mixed doubles champions, and experienced sea rowers Runcorn, and a very committed crew from Jersey for whom this is one of the most important race events of the year.
Following a careful and steady start, Stratford started to move through the field overtaking two of the seven crews in the event by the 1km mark. A close race then ensued with Runcorn and Jersey with little more than three boat lengths between all three crews for the next two kilometres.
At the halfway mark, Stratford were able to put in a large push to nose ahead of Runcorn but still had a determined Jersey to overcome. Another push saw Stratford nose in front of Jersey by several lengths to provide a cushion at the 4km mark. The two leading boats crewed by much younger athletes had by this stage opened a lead of several lengths and Stratford were forced to focus on keeping a determined Jersey crew behind them. With the sun making it difficult to see the course buoys both crews struggled to maintain a steady course, however Stratford were able to maintain their position and finish in third place and what they hoped would be a well deserved bronze medal, but alas, this was not to be as Stratford inadvertently went the wrong side of the final buoy and despite some contradictory umpire instructions, were eliminated after the race resulting in a frustrating end to a great performance and what would have been Heather's first National Rowing medal.
With gold going to Carmarthen in a time of 30mins 37 sec; Silver to Teign Scullers in 30mins and 49 sec; and Bronze to Jersey in 33mins.11sec, Stratford had to console themselves with their very good adjusted time of 32mins and 45 sec, which would not only have won them a bronze medal but earned selection by British Rowing to represent Great Britain in the same event at the world Club Championships in Portugal later in this year.
Said Tom Doherty, Masters Vice Captain, "Whilst it is immensely disappointing to miss out on a medal and Great Britain selection for the World Club Championships, we are extremely pleased to have beaten some very good crews and been competitive with crews thirty years younger!"