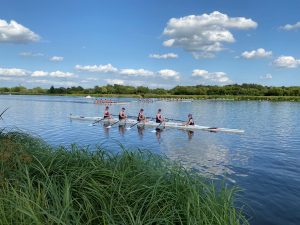 Despite holidays and Covid, a very busy weekend for Stratford upon Avon Boat Club's Junior Squad. The day Stratford Boat Club's J15 scullers had been working so hard for finally arrived. The British Rowing Junior Championships one of the most prestigious events in our racing calendar attracting boat clubs from across the country. The event was run over three days and saw Stratford's crews arrive bright and early on the Friday.
First up for Stratford upon Avon Boat Club was Charles Happel rowing a single scull in his time trial. Over a distance of 1500m, Charles sculled energetically demonstrating great technique to qualify for the D final
in a time of 6:20. In his final, over 2000m, he had learned from his earlier race to deliver a performance of greater energy and race tactics to finish second behind a crew from Rob Roy in a time of 8:17, less than four seconds from first place!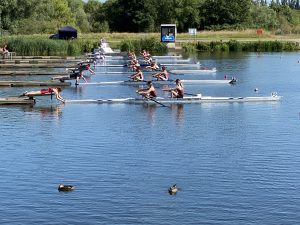 Stratford's J15 ladies double of Grace Beason and Ruby Brooker Collins raced their time trial providing excellent technique to qualify for their E final in time of 6:35. Their final delivered one of the most exciting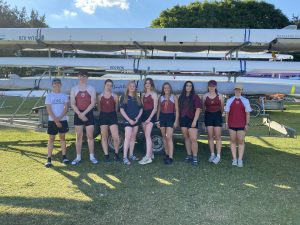 side by side racing of the day battling a crew from Queen Elizabeth High. They were chasing second place which changed hands several times but Stratford dug deep to win through in the last stroke beating QEH by 5 hundredths of a second in a time of 9:05.82.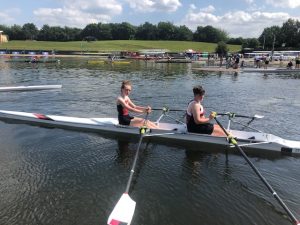 Stratford's J15 coxed quad of Kate Richardson, Maddie Hall, Harriet Noyes, Amalia Richardson and expertly coxed by Imo Hill didn't fail to provide an equally exciting performance. They provided an excellent time trial finishing in eighth place in a time of 5:59 to qualify for their AB Semi final, yet another 2k race! This side by side race saw them dig deep to finish fourth in a time of 7:58 to qualify for the B final a really great effort.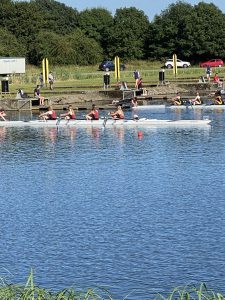 The heat of the day wasn't relenting but the ladies racing in the B final blew the competition away! They sculled at an extremely high rate over the 2k course demonstrating great power and precise catches to win their final in a time of 8:00.9 beating Cantabrigian by eight seconds a truly tremendous performance. Said Sam Hill, J15 coach, "Overall a very pleasing performance on the day by all our crews making parents and coaches extremely proud!"
On Saturday at the Junior British Championships it was the turn of the J16 squad to take to the water. First up was the time trial for the open singles and taking part for Stratford was Tomi Wilcock and Toby Sartain. Both boys put in a good row to see them place seventeenth and twenty fifth  respectively, putting them into the C and E Finals later in the day.
Next up was the women's pair of Freya Watts and Fleur Griffiths. The time trial was the first time these girls had raced in a pair or even in sweep. They had a fantastic race to place them in sixth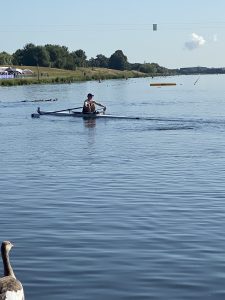 and gaining their spot in the A Final.
The last time trial saw Griffiths step straight into the women's four as one of the girls was ill, alongside Lucy Browne, Honour Keil, Bella Chappelhow and J14 cox Lucy Sartain. The girls put in another good performance, where they were catching the crew in front of them to also place sixth and book another A Final spot.
The finals were now taking place and first up were the boys singles. Unfortunately Sartain's opposition pulled out and so he didn't get to take to the water for a side by side race. Wilcock had a good race but struggled with the heat and hands slipping off the blades, taking the sixth place in the C Final.
Watts and Griffiths were up next in the A Final of the pairs and had a solid row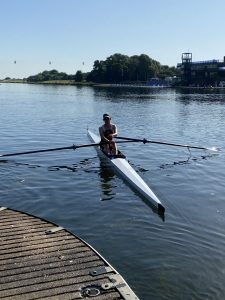 staying in contention all the way down the 2km course to finish in sixth place.
On completion of the pairs race Griffiths just had enough time to refill her water bottle before taking to the water again in the four with Browne, Keil, Chappelhow and Lucy Sartain. They all rowed really well, expertly coxed by Sartain, in her first race as a cox, to take the sixth place on the finish.
Commenting, Abi Terry, J16 coach said, "It was great to see the crews able to race again and making A Finals was a fantastic way to end what has been a really challenging year for them all. Now to have fun in the summer events!"
The third day of Junior National Championships meant it was the turn of the J18 squad to take on the best crews in the country over the 2km course at Holme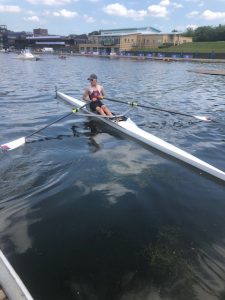 Pierrepont.  First to the water was the women's double scull of Jasmine Moutney and Isabelle Watts. Building on the Watts' family rowing heritage Isabelle did not disappoint in her first national regatta and teamed with the sculling prowess of Jasmine they scored a creditable twenty eighth. Next on the sun-drenched Nottinghamshire course was the WJ18 coxless quadruple sculls of Alice Baines, Amelie Sartain, Maiya James and Mili Wilcock.  The girls put in a steely row in the time trial to secure fourteenth place and a spot in the C Final, just 1.4 sec away from Semi Final contention. Nothing could have prepared the Nottingham spectators for the drama that played out in the C Final as the Stratford girls battled a quality Trafford Rowing Club crew for the length of the course, never more than a length between them for the full 2000m.  It was to be Stratford's day in the end by the tightest of margins and a photo finish, just 0.18 seconds. Said Steve Wellstead, J17/18 Performance Squad Coach and Junior Co-ordinator, "A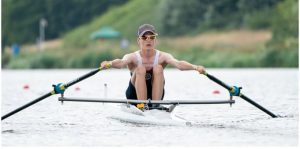 true testament to the grit of these young athletes!"
For media coverage, see Stratford Herald online https://www.stratford-herald.com/sport/busy-weekend-of-sport-for-rowers-9210210 and page fifty one and also Stratford Observer online https://stratfordobserver.co.uk/sport/junior-squad-makes-their-mark-in-national-championships and back sports page https://stratfordobserver.co.uk/editions/view/?/Stratford/2021/08/06&pages=024