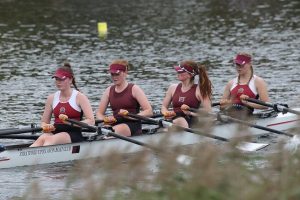 Last weekend saw the opening head race of the new season on the Thames in Oxfordshire. Wallingford Long Distance Sculls, held over 4.25km, attracts top level scullers from around the region with Stratford fielding crews across the age range. Stratford's J15 squad were represented in the coxed quadruple sculls event by Freya Watts, Lucy Browne, Fleur Griffiths, Honour Keil and Harriet Holmes (coxswain). Their row was sufficient to rank them fifth just ten seconds behind Headington School. In the shorter course event (1.5km), the J15 single
scullers of Harriet Holmes and Owen Perkins ranked sixth and third respectively.  In the double sculls, the J15 crew of Ruby Howells and Bella Chappelhow delivered a solid row to achieve tenth amongst a strong field. This left the double scull of Will Beattie and Tomi Wilcock last to compete in the J15 event. The powerhouse pair dominated their event taking the win by more than twenty seconds. Said Steve Wellstead, Junior Co-ordinator, "A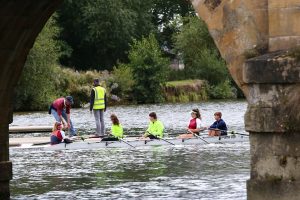 superb result for the season opener."
Yet again the two quad boats of the J14s did not disappoint, providing very spirited demonstrations of their sculling skills over a 1500m course. The WJ14X+ quad of Amalia Richardson, Grace Beason, Uchenna Nwachukwa, Millie Hodgson expertly coxed by Imogen Hill provided a battling sculling performance to finish a very creditable fourth place behind boats from Headington and Maidenhead but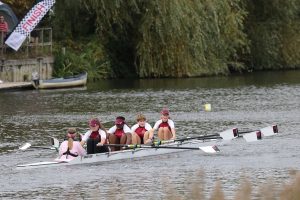 beating two other boats from Headington and Maidenhead. The J4 4X+ quad boat of Charles Happel, Madison Hall, Louie Beason, Harriet Noyes superbly coxed by Emily Stobart were racing to record a time, having no other competing crews for their category. However the time they recorded of 8 minutes and 49.4 seconds beat the girls' quad by 2.5 seconds. Said Steve Marsden, J14 coach, "Perhaps they grabbed the bragging rights for the J14's on this occasion. A final note that the times recorded were 2.3 and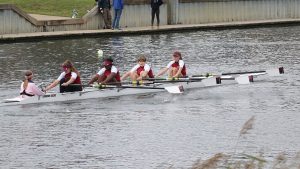 4.8 seconds, respectively, faster than the J15 race and would have finished fourth in that race too."
The J17/18 juniors started the new season by competing on Wallingford's challenging course over 4,500 metres with some not insignificant bends to test the bow steered coxless boats. The event was attended by over six hundred high quality crews competing across three divisions. Boating first for Stratford in the Open Junior 18 sculls was
Joe Hodson competing against a large field of sixty one competitors achieving a creditable result of thirty four out of sixty one.
Next up to the challenge was the crew of Emily Browne, Maiya James, Nixie Brunt and Matilda Watts competing in the Junior 18 women's coxless quad which resulted in achieving twelfth place in their category.
In the afternoon division, the crew of Alice Baines and Katie Wellstead competed against a plethora of London based schools in the women's Junior 18 double sculls achieving eleventh place, a promising start given this was their second outing together.
Finally the crew of Mili Wilcock, Molly Gill-Swift, Hermione Hill and Jasmine Mountney took to the water. Due to the high number of entries in the Junior 18 category the girls had to step up to the Women's coxless quad event which resulted in achieving sixth place.
For media coverage, see Stratford Herald page sixteen and online http://www.stratford-herald.com/102511-stratford-juniors-impress-first-head-race-season.html
For more great pictures from Wallingford Head, see Stuart Baines' excellent selection http://www.stratford-herald.com/102511-stratford-juniors-impress-first-head-race-season.html