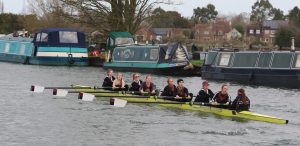 Saturday saw Stratford upon Avon Boat Club's Mixed Masters double scull of Heather Hayton and Thomas Doherty make the long trek across country to Peterborough for some racing on the River Nene. Racing in two of the three divisions saw them taking on the men in the Men's Masters and Open events for some much needed race practice due to a lack of mixed doubles.
A sunny but extremely windy day saw the first division Men's Masters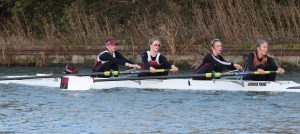 double sculls race hotly competed with seven entries lead off by Stratford. Conditions on the way to the start began to get challenging as a combination of exposed location, high winds and a strong stream made it difficult for all the small boats (singles and doubles) to steer.
Once racing finally got under way Stratford managed, despite the blustery conditions, to settle into a good rhythm and pull away from the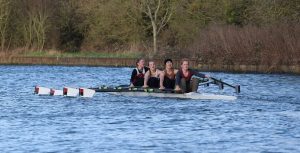 pursuing men's crews. As the race developed, it soon became apparent that Stratford was in a battle with a very good quality men's double crew as they made their way through the field to close on Stratford. This developed into a good close race as Stratford worked hard to hold them off over the remainder of the course but eventually were overtaken in the last 300m of the race. Strong head winds and rowing against a significant stream lead to overall times being longer than would normally be expected but Stratford were pleased to finish as the third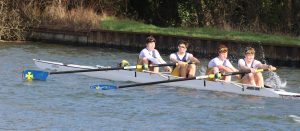 fastest crew of seven in the event.
In Division Two, Stratford was competing in the Men's Open double sculls event. However, the conditions had considerably worsened with winds reaching up to 60mph causing the river conditions to become almost unrowable. Chaotic scenes developed as crews struggled to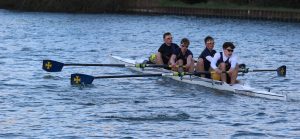 control their boats and manage the conditions with the result that there was a delayed start to the division. Rowing conditions were so bad that even the fours struggled to steer and maintain any race speed turning the division into a survival test!. Conditions saw the remaining Division Three suspended for all but eights racing with the course reduced to half its planned length.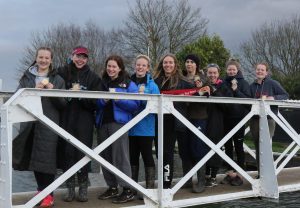 Said Heather Hayton, "We were pleased to take on the men again and come up with some scalps and have a good race in Division One, making the long trip worthwhile. Division Two proved to be a  real test of character and nerve rather than racing!"
Meanwhile, Stratford upon Avon Boat Club's Junior Squad made their way to Wycliffe Big Head where changeable weather and gusting winds greeted the WJ17/18 squad but even this was a welcome change to the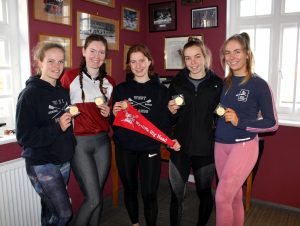 recent weeks of fog bound and flooded conditions of the Avon.
The Wycliffe Big Head is raced over a distance of 4500M  from Slimbridge to Frampton in Gloucestershire: 178 crews took part in the annual event. The initial challenge was getting onto the course under a very low bridge and high water! This was the first opportunity for a newly formed eight to test themselves against established crews from Marlow, Monmouth and Chester to name a few. The crew of Katie Wellstead, Mili Wilcock Emily Browne, Khloe Curnock, Molly Gill-Swift, Alice Baines, Amelie Sartain, Maiya James coxed by Hermione Hill were not fazed by their competition: leading from the front, they

dominated the race in a time of 16:58 bringing home a gold medal.
After a brief rest, the girls took to the water again in the afternoon division splitting into two crews. First down the course in a time of 18:45 was Emily Browne, Mili Wilcock, Alice Baines and Katie Wellstead in a four coxed by Hermione Hill. Being spurred on by their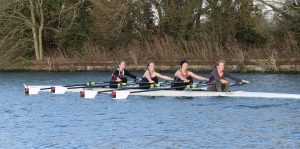 success in the morning division, the girls once again achieved gold medal status, the fastest time of the combined women's and junior 18 coxed four events.
Finally it was the turn of Molly Gill – Swift, Khloe Curnock, Amelie Sartain and Maiya James. This crew formed only two weeks prior to the event and came home in sixth place out of a field of eleven coxless quads, a good result given the stiff competition of more established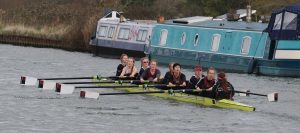 crews.
Said J17/J18 coach Colin Bell, "Given the lack of training time on the water, the results are a good lead up to their next competitive event at Worcester in two weeks time."
Stratford's sister club, King Edward The Sixth School took two coxed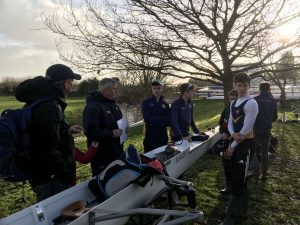 fours to Wycliffe Big Head. They competed in Men's Open Fours and Novice Fours winning gold in both races against some of the top rowing school opposition in the country.
Racing first in very blustery conditions was the top boat of Joe Hodson, Felix Crabtree, Adam Bayliss and Cameron Dalrymple-Baker, very ably coxed by Jamie Mitchell who beat highly ranked crews from Shrewsbury School, Kings Worcester and Shiplake College to take home the winning pennant, in just over seventeen minutes.
In the second division, the Novice crew of Cameron Dalrymple-Baker,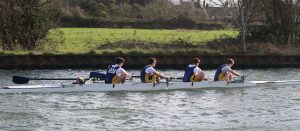 Fred Allanson, Tobias Bretschneider, Sam Thornton, again very ably coxed by Jamie Mitchell, won by nearly a minute from Monmouth School.
Said coach Bill Sullivan, "Rowing at King Edward The Sixth continues to thrive and the squad will now aim to maintain their progress heading

into the West of England Championships in early March and the prestigious Schools Head, run on the Tideway on 18th March."
For media coverage, see Stratford Herald page fifteen and online

https://www.stratford-herald.com/105808-juniors-enjoy-golden-success-gloucestershire.html and Stratford Observer online https://stratfordobserver.co.uk/sport/stratford-rowers-shine-at-peterborough-and-wycliffe
For more great pictures of Wycliffe Big Head, see Kathy Baines' great selection https://1drv.ms/f/s!AgY7EiDB2lCOg6xz7r8fpil-WrbuNA