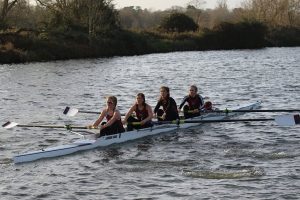 After many frustrating weeks of not being able to get out onto the river because of unsafe conditions, Stratford upon Avon Boat Club went in force to Wycliffe Small Boats Head on Saturday with their sister club King Edward The Sixth School.
First up for Stratford Boat Club was the WJ14 4x+ squad of Amalia Richardson, Millie Hodgson, Harriet Noyes, Maddie Hall coxed by Imogen Hill who after settling nerves about getting through the low bridge produced an admirable demonstration of power and precision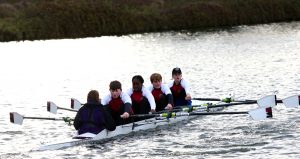 sculling over the course of 2500m to beat crews from City of Bristol, City of Oxford and Monmouth Comprehensive School in a time of 11:33.6.
Next up in the afternoon division was the OJ14 4x+ of Louie Beason, Uche Nwachukwa, Grace Beason, Charles Happel coxed by Emily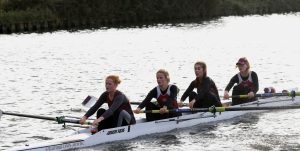 Stobart. The weather conditions had changed from the morning sessions providing a strong distinctly cold wind down the course. However this did not deter the crew and with Emily providing all the encouragement possible from the cox seat did battle with the all boys' crews from Monmouth and two boats from Winchester College in a time of 11:26.4 missing out on a medal place by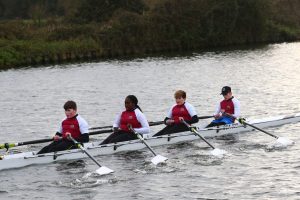 only nine seconds. Commenting, Steve Marsden, J14 Coach, said, "Great racing and they did gain bragging rights by beating their peers' crew by seven seconds!"
Stratford's J15 squad had a very successful day, finishing up with two golds, one silver and one bronze medal. The first gold came from the boys' double of Tomi Wilcock and Will Beattie, who despite being forced to stop by a girls' quad that refused to move out of their way,
finished over twenty seconds ahead of their nearest rivals from Falcon Rowing Club, in a time of ten minutes and twenty three seconds. Said Abi Terry, J15 Coach, "With this time, the double would have also won the J16 event!"
Tomi and Will were both in action again in the J15 singles event. Here Wilcock dominated in a time of eleven minutes and thirty five seconds, twenty six seconds ahead of a sculler from Hereford. Beattie also put in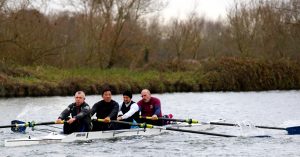 a good performance to finish in the bronze medal position in a time of twelve minutes and seven seconds. The silver medal came from Harriet Holmes and Freya Watts in the WJ15 double event. This was Watts' third event of the day and despite no practice together, the girls rowed brilliantly to finish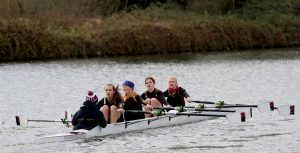 with a time of eleven minutes and thirty three seconds.
The WJ15 4x+ of Freya Watts, Fleur Griffiths, Lucy Browne, Harriet Holmes and cox Toby Sartain, finished in fourth place just 1.4 seconds behind third place in a time of ten minutes and fifty four seconds.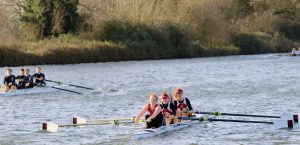 Griffiths, Watts and Holmes also competed in the WJ15 singles event, finishing in sixth, seventh and ninth place respectively.
The Club's J16 squad was represented by Elisabeth Edwards who won a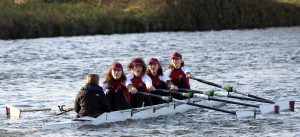 bronze medal in the WJ 16 1x single sculls class.
Wycliffe Small Boats Head presented a long awaited opportunity for Stratford upon Avon Boat Club crews to engaging in some racing over 2,500 metres on the Sharpness canal. The ladies in the J17/18 squad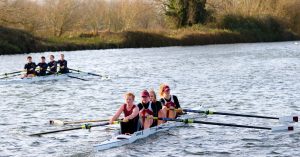 fielded four crew combinations and collected gold, silver and bronze medals in both Junior and Senior coxed four events. It was a particularly fruitful day for Amelie Sartain, the Club's talented fifteen year old sculler who collected two silver medals, one in the women's junior 16 single sculls and the other in Senior Women's double sculls partnered by Alice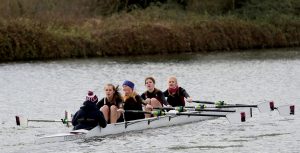 Baines.
Stratford's sister club from King Edward The Sixth School was also out in force and this weekend saw the first of this year's head races for them and after many months of training, the squad was eager to put their strength to the test. At this year's annual Wycliffe head, KES fielded two coxed fours and a double scull. The novice J17 four consisting of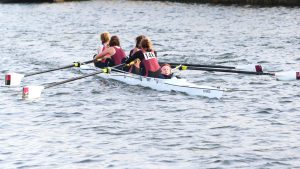 Cameron Dalrymple- Baker, Fred Alanson, Sam Thornton and Tobias Bretschneider with cox Jamie Mitchell competed in the first division of the day, comfortably achieving first place in a race that could only be described as an uncontested victory. The second division of the day witnessed a fantastic display of racing elegance by Cameron and Fred (this time competing in a double) who managed to beat five other crews, racing up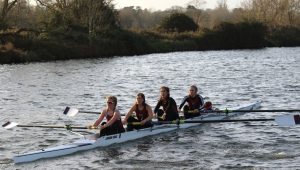 an age group before narrowly losing out to older opposition. As the day drew on, the J18 four consisting of Joe Hodson, Felix Crabtree, Adam Baylis, Sam Thornton and once again cox Jamie Mitchell prepared for their race. Their first challenge of the day was soon evident as we battled the rough waters of the Gloucestershire canal on our way up to the start. Cox Jamie Mitchell ensured his crew stayed calm and they stuck to their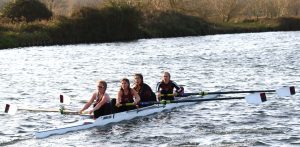 race plan and executed it perfectly. After a minor collision with a Victorian transport barge due to another crew coming along side us, the KES crew powered on to finish in a very competitive time of nine minutes and fifty four seconds. This secured them fourth place, one minute and twenty seconds ahead of the fifth crew and only thirty seconds behind the first crew from Radley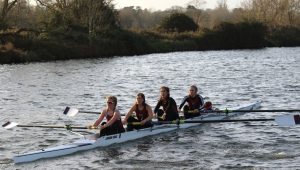 College that contained a boy from last year's junior GB squad. Said crew captain Joe Hodson, "We are very pleased with this set of results especially as this was Tobias and Jamie's first time racing! We are all looking forward to racing again in the New Year!"
Also rowing in the MAS4+ category at Wycliffe Small Boats Head was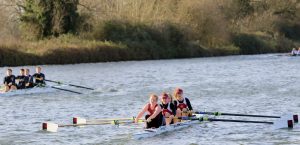 Stratford Masters' Men's four of Richard Aitchinson, Sean Kim, Enrico Calore and David Edwards coxed by Elisabeth Edwards. This was a great success as three of the crew members came through the Club's Learn to Row course only three months ago!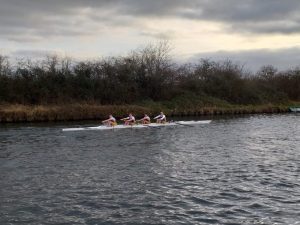 Meanwhile, off the water at the Queen Elizabeth Olympic Park's Velodrome in London, Adaptive Squad Coach Trevor Tiller flew the flag at the British Rowing Indoor Championships in the Open Men's 2000m event. A good steady race saw Trevor finish just outside a personal best time and seventieth out of eighty seven entries of all ages.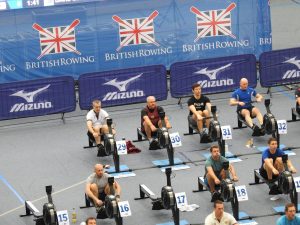 For media coverage, see Stratford Herald online http://www.stratford-herald.com/104227-welcome-return-racing-water-stratford-rowers.html and page seventeen
For more great pictures of Wycliffe Small Boats Head, see Stuart Baines' excellent selection at https://1drv.ms/u/s!AiW2DAyn9tg9jcR06xHLqjFZ6vGIiA?e=OGq4TK