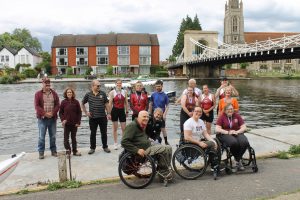 Stratford upon Avon Boat Club's adaptive squad finally returned to competition at Marlow this weekend: Stratford were the most successful club on the day winning three of the four events entered
Hattie Throssell, supported by Sofia Ward, had a clear win in the ladies' doubles event for those who use a wheelchair. Lissie Simpson, competing in her first event, supported by Jake Blatcher then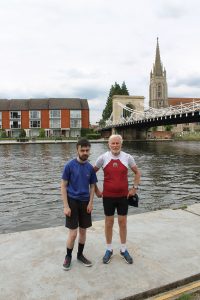 overcame stiff opposition from Guildford to win their final by two lengths. This race was for those with some lower limb disability.
Ian Ward, supported by his mother Paola, in their final, took part in the best race of the day. All three crews crossed the line within a few seconds of each other. The event for those with a learning difficulties and was won by the Stratford crew, defeating two Marlow crews by half a length.
Dan Godefroy, supported by Nev Hands, came close to making it a clean sweep for Stratford, missing out by only a length to a strong Marlow boat.
A number of other members of Stratford's adaptive squad attended the event to cheer their colleagues on. "It was a great sporting and social day out for everyone," said Mark Dewdney, Stratford Boat Club's Head Adaptive Coach. "The squad next plan to compete at Maidenhead in early August: several new adaptive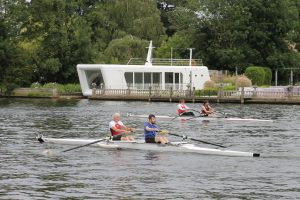 squad members will be making their debut at this event."
Meanwhile at Peterborough Junior Championships, Stratford's J15 squad's racing began on the Saturday in what can kindly be described as cool, cloudy with a stiff breeze: so much for blazing June! However, undaunted,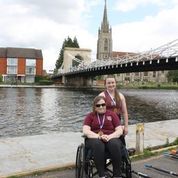 their day started with a round of time trials to determine which finals race the crews would race in. Stratford's J15 quad crew of Imogen Hill, Ruby Brooker Collins, Grace Beason, Uche Nwachukwa and coxed by Kate Richardson sculled strongly to be placed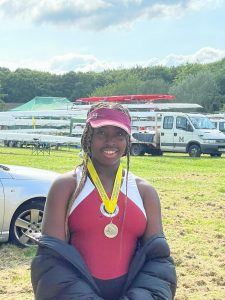 in the C final which they duly won producing a great time of 4 mins 50 seconds. Commenting, Steve Marsden, J15 Coach said, "Great sculling , fantastic audibly exuberant coxing pushing the crew across the line in what was their first competitive outing!"
Next up was Uche Nwachukwa who sculled bravely in a single through a strong head wind in her time trial and then raced again in the Plate final gaining a Silver Medal in a time of 5mins 10 seconds, only five seconds behind the winning boat from Globe.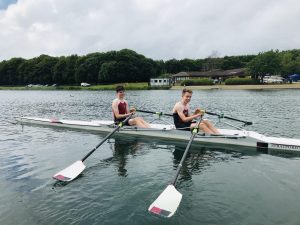 Stratford's final J15 squad race took place on the Sunday with Charles Happel racing in his time trial to be placed in the C final, producing an excellent performance to finish in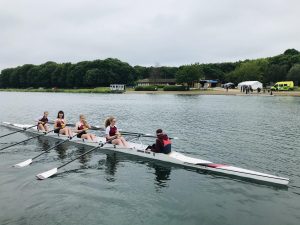 third place behind contestants from Peterborough City and Molesey in a time of 5mins 4 seconds. Commenting further, Steve Marsden said, "A fantastic effort by all our J15 athletes yet again proving Stratford Boat Club can mix it with some of the best scullers in the land!"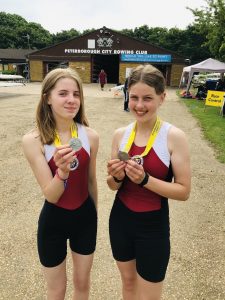 Stratford's J14 squad finally also got their opportunity to race on the wonderful rowing course at Peterborough, four lanes of side-by-side with stakeboat start racing in both the time trials and the finals. The brilliant event was designed to give most athletes two rows each per event. On Saturday in the Open J14 1x trials, Will Dalrymple-Baker finished the 1000m course in 4min 52.9sec (7th overall) and Jamie Wilcock completed it in 5min 02.9sec (9th), earning him a place in the C Final in which he came second against Doncaster and Globe, in 5min 04.1sec. In the B Final, Will D-B finished third in 4min 56.7src, against strong competition from Windsor Boys School, Newark and Bewl Bridge.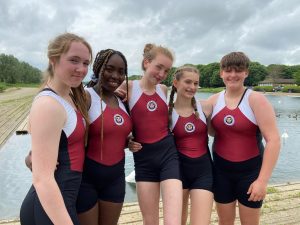 Both Stratford J14 boys then competed in the Open J14 2x event after lunch and posted a credible time trial time of 4min 29.8secs (10th overall), which got them into the C Final and winning it in a time of 4min 27.9sec, beating the boys from Peterborough City, Bewl Bridge and Globe. Said J14 Club Coach Hugo Happel: "Both boys did superbly well in their inaugural race, against established schools, in tricky windy conditions. Lots more to come from these two!"
On Sunday, it was the J14 girls' turn to step into the sculling arena. Starting off in the WJ14 1x category, in similarly windy conditions,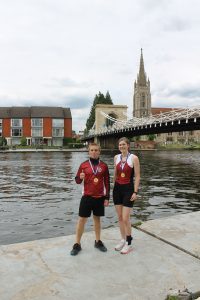 Aimee Appleton finished her time trial in 5min 55.1sec (5th overall), which got her into the B Final which she won in 5min 42.1sec. Lucy Sartain did her time trial in 5min 51.1sec (4th overall) which got her into the A Final! She finished fourth in a terrific time of 5min 32.4sec, with Newark Rowing Club winning Gold in 4min 44.2sec.
Shortly after lunch Scarlett Richardson (stroke) and Nancy Davis (bow) set a time of 4min 56.6s in the WJ14 2x time trial (4th overall). Lucy Sartain (stroke) and Molly Vondrak (bow) set an equally impressive time of 4min 54.0s in their race (3rd overall). Both Stratford crews made it to the A Final, against Peterborough City and St Ives. Sartain/Vondrak finished fourth, whilst Richardson/Davis finished second in 5min 11.9s, a superb achievement to be winning Silver medals in their first ever race.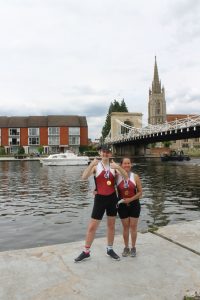 Finally, the WJ14 4x+ entry made up of Eloise Cooper (stroke), Jessica Long, Esmerelda Elfwood, Harriet Froom (bow), expertly coxed by Aimee Appleton, posted a 5min 06.2s time trial (6th overall), securing them a place in the B Final. Against strong competition from Kingston Girls' School and Norwich School, Stratford's girls finished third in 5min 07.8sec. Commenting further, Hugo Happel said, "The WJ14 athletes did incredibly well in their first ever competition, they stuck to the game plan of keeping strokes long and powerful, which they did brilliantly. They took to the side-by-side format really well, whereas four weeks ago, it all seemed a bit daunting to quite a number of them. Just like the boys the day before, they really got into the mindset and delivered in spades. They all did the Stratford Boat Club proud. I look forward to seeing more from these spirited J14 boys and girls!"
For media coverage, see Stratford Herald online https://www.stratford-herald.com/sport/rowers-clean-up-at-marlow-and-peterborough-9205323 and page fifty two: see also Stratford Observer online https://stratfordobserver.co.uk/sport/stratford-on-form-in-the-water-as-adaptive-and-junior-rowers-take-the-spotlight and back sports page
For more great pictures from Marlow, see Bruce Lynn's selection https://www.dropbox.com/sh/ncy2dc8e3977kh2/AAA243u_J-s6thwWCVida4Uxa?dl=0