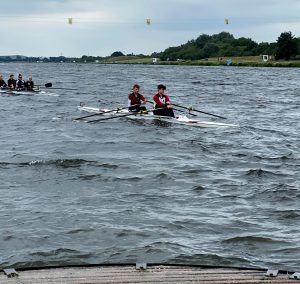 Last weekend, the Stratford upon Avon Boat Club's J16 double of Tomi Wilcock and Will Beattie travelled to Nottingham to the National Water Sports Centre to take part in a new event, the GB J16 Summer Regatta. This event attracted the best of J16 athletes from around Great Britain.
Held over 1500m, this event enabled athletes to race up to three times during the day giving them vast amounts of race experience, something that has been drastically lacking over the past eighteen months.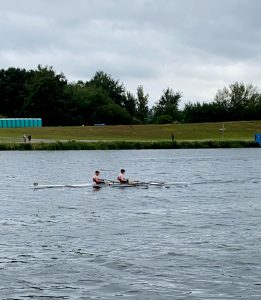 The Stratford duo took to the rather choppy water for the time trial where they put in a great performance to finish in third place. This secured them their spot in the semi-finals: the water remained choppy due to the winds throughout the day. Wilcock and Beattie raced well in the semi-final coming into the final 200m in second, where they were just pipped on the line placing them third,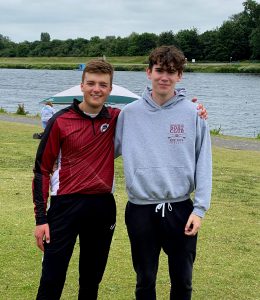 enough to make the A-Final.
As they boated for the A-Final, the wind picked up even more: they paddled off to the start in preparation. They had been assigned Lane 1 out of 6 and rowed extremely well. The crews from Weybridge and Newark were out in front and took Gold and Silver respectively. The other four crews were extremely close together coming into the final 200m, it was going to come down to whoever could out sprint the rest. Beattie and Wilcock put up a good fight and on the line were officially awarded sixth place, in pretty much a photo finish of the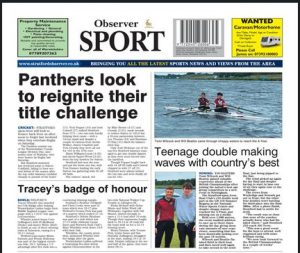 four crews. Said Abi Terry, J16 Coach, "The result was so close that none of the coaches actually knew who had finished where. This was a great event for the boys to attend, well organised and some brilliant racing. We now look forward to the British Championships in a couple of week's time."
For media coverage, see Stratford Herald https://www.stratford-herald.com/sport/photo-finish-for-boat-club-duo-9206158 and page fifty three and also Stratford Observer https://stratfordobserver.co.uk/editions/view/?/Stratford/2021/07/09&pages=024 and back sports page