Stratford upon Avon Boat Club and their sister club King Edward VI School, commenced their 2019 competitive racing year with a series of head races at Northampton on Saturday. The event extremely well hosted by Northampton Rowing Club and raced upstream on the River Nene in cold but unusually dry conditions, giving all a good chance to work off any remaining post Christmas indulgences.
Northampton Head of the Nene was divided into four divisions with individual events competed over all divisions during the day. This also gave the majority of competitors the chance to enter several events.
The course, being reasonably straight and only 1800 metres long, attracts beginners' crews and those seeking to expand their racing
experience for tougher tests later in the year and as such both Stratford and King Edward VI School brought a number of novice crews seeking their first experience of competitive racing.
An early start saw crews rowing off at 08.00hrs for the first division of racing. The first event for Stratford saw two crews competing in the
Masters' coxless quad sculls. First off in division one was Richard Nelson, Wallace Brown, Kjersti Woolley and Tom Doherty. Kjersti racing in a men's event as a late minute substitute put in a sterling performance to help the crew finish in a creditable time of 6mins 22 sec, twenty seconds behind a high quality Oundle all men's crew in the same race and faster than a
Milton Keynes men's crew. Later in the day Stratford's second crew of Gary Clay, Wallace Brown, Neville Hand and Tom Doherty put in an improved effort to record a time of 5 mins 56 sec to earn a very creditable second place to a high quality crew from Hollowell Scullers.
Stratford Men's Masters were in action again later in the day with Gary Clay and Neville Hand in the double sculls event against crews from Oundle and Cantabrian boat clubs and were able to record a well deserved victory recording a creditable time of 7.05 seconds.
Perhaps the most eagerly anticipated event for Stratford was the debut of their new Women's Masters crew of Naomi Knowles, Ruth "Kings Heath" Poulton, Dee Wevill, and Heather Hayton. This crew which had been training hard over the previous autumn were racing in a quad coxless sculling race requiring good race management and steering ability. Racing more experience opponents from Oundle Rowing Club, the crew put in an
excellent performance finishing just under six seconds behind the winners in a time of 7mins and 29 seconds.
It was then the turn of the small boats crews next with a Mixed Masters all Stratford showdown between Helen Helliwell and Hugo Happel
taking on the more experienced crew of Christine Goodwin and Tim Lunel. A very competent performance by Helen and Hugo in their first race saw them post a creditable time of 8 mins and 17 secs but it was not sadly enough to beat the experience of Christine and Tim.
Kjersti Woolly in addition to her Men's quad race earlier in the day raced for Derwent Rowing Club recording a win in their Mixed Masters quad four and a good performance in their Women's Masters coxed four.
This left the small boat racers of Gina Fusco and Tim Lunel competing in single sculls. Gina who is in her first season of competitive racing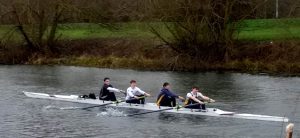 recorded two very good times of 8 mins 34 secs, and 8 mins 48 secs displaying some very consistent sculling and is sure to be closing on her first competitive win. Tim Lunel competing in his third event of the day in Masters single sculls was unable to match his success in the double but put in a good solid performance.
The King Edward VI School squad joined the Masters rowers at Northampton. Of the thirteen athletes taking part, six had never raced or coxed in a race before. Said Helen Smith King Edward VI School coach, "Lack of junior opposition meant several races for these sixteen to eighteen year olds were against seniors, However the athletes gave their best efforts to achieve a good clutch of medals."
George, Adam, Felix, Sam and Emerald raced 4+ in Division 1 making the bronze medal position whilst the girls crew of Lara, Ellie, Maddie, Gina and Leah also came first in their event.  Division 3 saw the other boys' 4+ of Joe, Cameron, Fred, Felix and Emerald also achieve gold whilst being the fastest coxed four of the day. The 2x crew of Jess and Talei also achieved two golds for the squad in the J17 girls' and women's' doubles over two divisions.
Said Tom Doherty, Stratford upon Avon Boat Club's Masters Vice Caption, "This was an excellent day's racing for both clubs with creditable performances across all crews. The event was well organised and ran to time providing a good experience both on and off the water. Our collective thanks to John Vedy for organising the boat transport without which we could not have enjoyed the day. My overriding memory of the event however will be removing a selection of hot water bottles, hand warmers, food hampers and a selection of soft furnishings from our Masters Women's crew's boat about to embark on their first ever race!"
For media coverage, see Stratford Observer online https://stratfordobserver.co.uk/sport/comfortable-outing-at-northampton and Midweek page 24
For official photographs of Northampton Head of the Nene, photos can now be found online at: https://photocall.instaproofs.com/gallery/#events/1642506. To view the gallery, use your own email address with nene as the password. The results are available at: https://northamptonrc.org.uk/head/head.aspx.